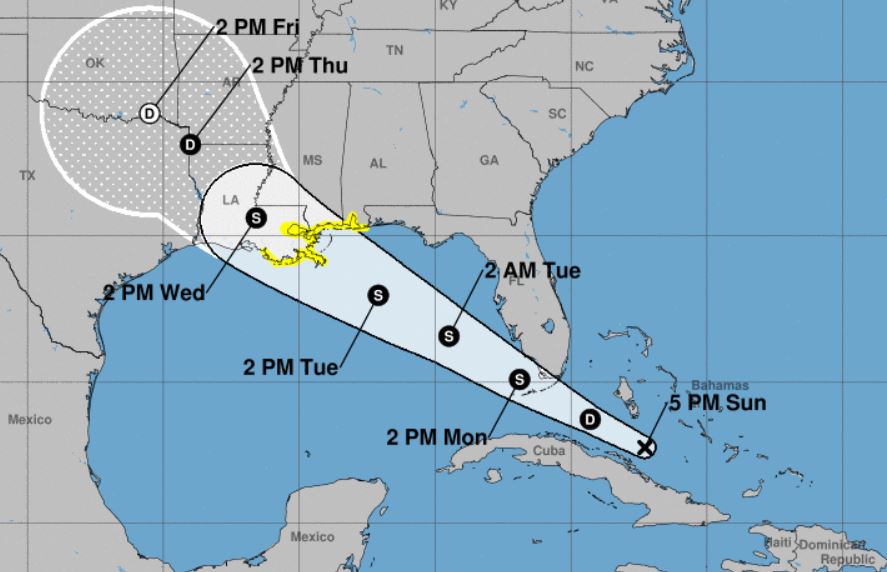 The National Hurricane Center has issued a Tropical Storm Watch for the Louisiana, Mississippi and Alabama Gulf Coast in association with newly designated Potential Tropical Cyclone Seven, a tropical wave currently located between north-central Cuba and the central Bahamas.
The NHC issued its first advisory for the system at 4 p.m. CDT, including a Tropical Storm Watch issued for portions of the central Gulf Coast from the Alabama-Florida border westward to east of Morgan City, Louisiana, including Lake Pontchartrain and Lake Maurepas.
Meteorologist Jim Spann said the most likely issue with the system will be the potential for heavy rail. "Whatever develops should move in the general direction of Southeast (Louisiana)," Spann said.
According to NHC Forecaster Stacy Stewart, tropical storm conditions are possible within the watch area by Tuesday night and Wednesday. "The disturbance is expected to produce heavy rainfall along the central Gulf Coast of the United States by the middle of the week."
Currently the system is moving toward the WNW near 15 mph, and that general motion is expected to continue through Wednesday, per NHC.
"On the forecast track, the disturbance will pass over the Florida Keys Monday afternoon, emerge over the southeastern Gulf of Mexico by Monday evening, and reach the central Gulf Coast by Tuesday night or Wednesday morning," Stewart stated.
Maximum sustained winds are near 30 mph with higher gusts. "Gradual strengthening is forecast during the next 48 hours, and the disturbance is expected to become a tropical depression Monday morning and a tropical storm by Monday evening. Conditions appear to be conducive for development, and this system is expected to become a tropical depression by Monday morning," Stewart said.
Meanwhile, the NHC 4 p.m. C.S.T. update for Tropical Storm Florence shows the storm has maximum sustained winds of 50 mph and is moving WNW at 17 mph. T.S. Florence is currently located several hundred miles west of the Cabo Verde Islands. "A west-northwestward to westward motion is expected to continue through Wednesday with a gradual decrease in forward speed," stated NHC Forecaster Michael Brennan.
Additionally, per NHC, a tropical wave located along the west coast of Africa is forecast to move westward over open water for several days. "Upper-level winds are expected to gradually become more conducive for some slow development of this disturbance by the middle of the week," stated NHC Forecaster Stacy Stewart.