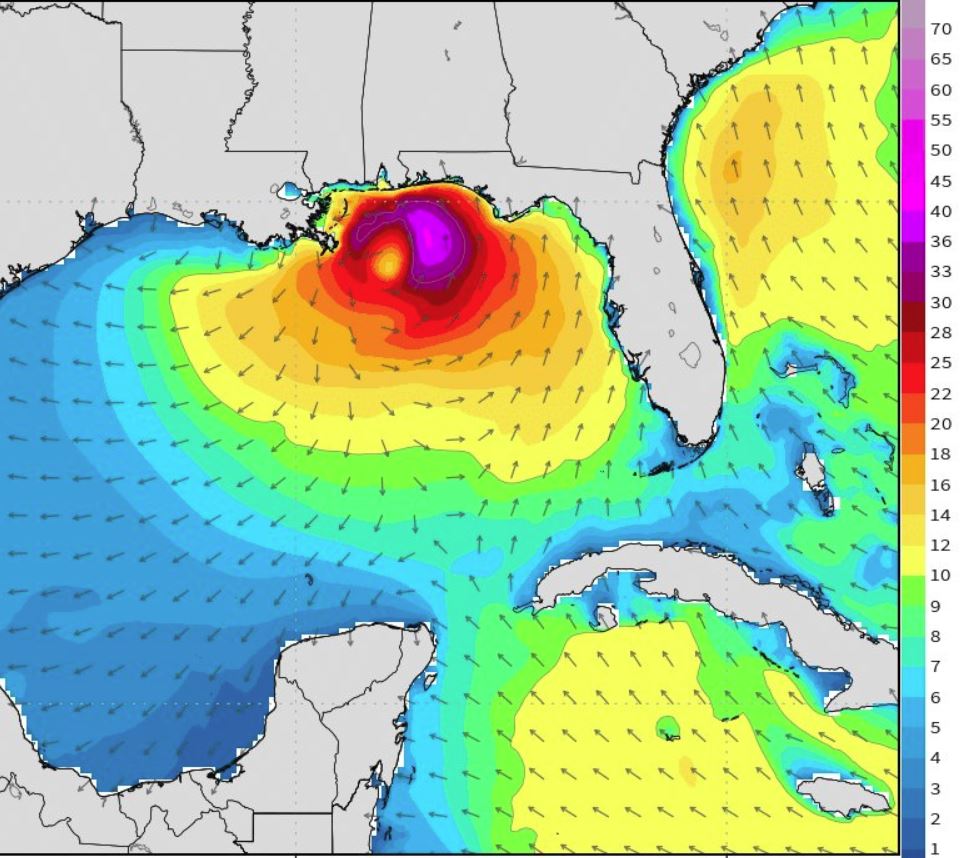 Graphic depicting maximum predicted wave heights for Monday, May 28 by weathermodels.com
The National Hurricane Center's latest data indicates a low-pressure system currently over the northwestern Caribbean Sea has become "better defined" overnight, and could bring tropical-storm-force winds and storm surge to the northern Gulf Coast late this weekend or early next week.
"The track of Gulf storm will mainly be south-to-north and build the seas ahead and to the right of the center of circulation. Could see some huge waves, maximum heights (crest-to-trough) of 30-40 feet offshore. 10-15 feet along the northern Gulf coast with some surge on top," stated Meteorologist Dr. Ryan Maue, chief operating officer of weather.us.
Navarre Beach Fire Chief Danny Fureigh said double red flags will possibly start flying on Sunday if the surf reaches three feet. "At that point the water will be closed unless a person is tethered to a surf board or has a flotation device which can hold up their weight," he said.
The NHC 6:30 a.m. CST update stated thunderstorm activity associated with the storm has also increased and become better organized.
"Environmental conditions are forecast to steadily become more conducive for development, and a subtropical or tropical depression or storm is likely to form by Saturday over the northwestern Caribbean Sea or the southeastern Gulf of Mexico," NHC Forecaster Stacy Stewart said. According to Stewart, this system could also bring tropical-storm-force winds and storm surge to portions of the northern Gulf Coast
by late this weekend or early next week. "In addition, the threat of rip currents will steadily increase along the Gulf Coast from Florida westward to Louisiana over the Memorial Day weekend."
An Air Force Reserve reconnaissance aircraft is scheduled to investigate the low this afternoon, per NHC. The next storm update will be issued by 1 p.m. CST.