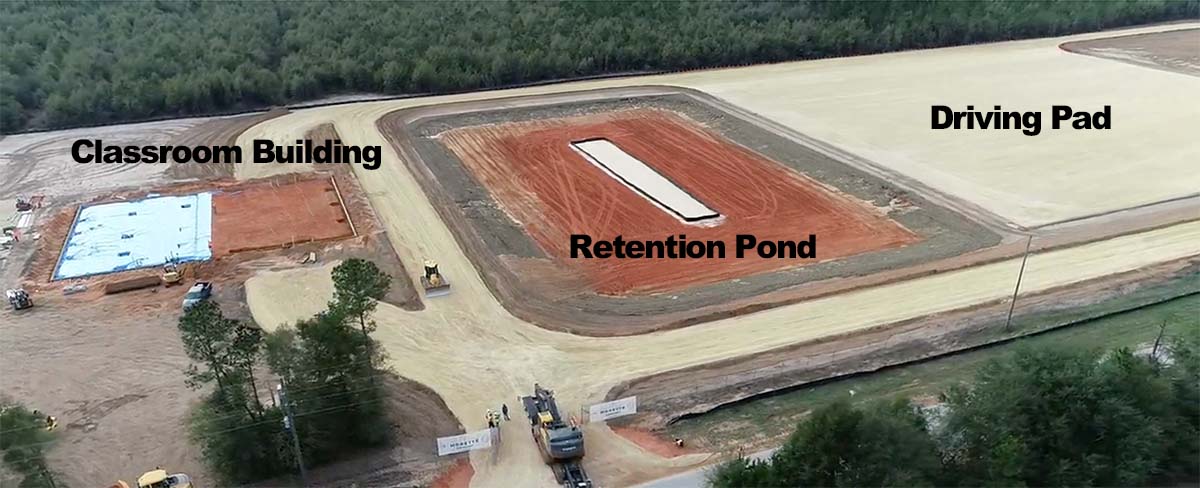 An aerial view of the building site for the PSC Truck Driving School campus.The first shovels hit the dirt at the Pensacola State College Truck Driver Training Facility in late September 2021 during the groundbreaking ceremony for the $7.8 million facility.

There have been a bunch more shovels and heavy construction equipment moving dirt and changing the landscape of the 15-acre site in rural Milton ever since.

Aerial photographs show an already-transformed landscape, with recognizable areas cleared for the facility building, which will include three classrooms, offices and an adjoining truck bay, and the half-mile asphalt driving loop and a concrete driving pad. It also will include state-of-the-art Virage Truck simulators that are currently used in the Truck Driver Training program, which was initiated at PSC in 2019.

The substantial completion date for the project is Aug. 5 and Michael Listau, director of Workforce Education at PSC, said he expects classes to begin at the facility, located at the Santa Rosa Industrial Park, in August if all the construction is complete.

PSC Truck Driving training has been centered at the Warrington campus and nearby Bronson Field near Blue Angel Recreation Park. Listau said he expects to add two more trucks to PSC's fleet.

"We're on the cusp of adding two (additional trucks),'' Listau said. "That will allow us to increase our student capacity."

Diane Bracken, PSC Facilities director, said construction is on schedule.

"Everything is looking good so far,'' Bracken said. "We're hoping to be able to move in in August."

The facility is being funded by a $3.8 million Triumph Gulf Coast grant, a $1.6 million U.S. Department of Commerce grant, as well as state and local funding.

The PSC truck driving program also has received matching funds ─ a $250,000 GEERS Rapid Credentialing Grant, a $125,000 Florida Governor's Job Growth Grant and $49,500 from the Santa Rosa County Board of Commissioners.

Students in the program will drive at least 1,000 miles in training. When students complete the 320-hour Commercial Vehicle Driving course they will have the tools needed to earn a Florida Class A Commercial Driver License.

According to a recent estimate released by the American Trucking Associations, the country now needs an additional 60,800 truck drivers. That figure is expected to grow to more than 60,000 by 2028.

According to the U.S. Bureau of Labor Statistics, the May 2020 median pay for heavy and tractor-trailer truck drivers was $22.66 an hour or $47,130 a year. The top 10 percent of U.S. truck drivers earn about $70,000 or higher.