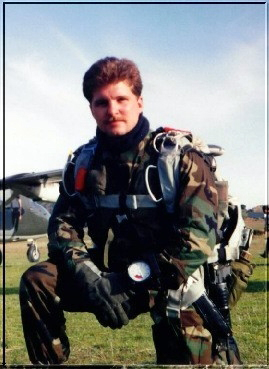 The family of the late Air Force Tech. Sgt. John A. Chapman today accepted the Congressional Medal of Honor from United States President Donald J. Trump, who made the posthumous award in honoring his sacrifice during 2002's battle at Takur Ghar in Afghanistan.
"In that final act of supreme courage, John gave his life for his fellow warriors," said Trump, pointing out Chapman helped save the lives of more than 20 other service men through his heroic actions.
According to the U.S. Air Force, Chapman is the first airman to receive the nation's highest award for valor since the Vietnam War.
His award was upgraded from a 2003 Air Force Cross he received following the enhancement of drone video which revealed more details about his action during the March 2002 battle in which six other U.S. service members were killed:
Petty Officer 1st Class Neil Roberts – U.S. Navy SEAL
Senior Airman Jason Cunningham – U.S. Air Force pararescue
Corporal Matthew Commons – U.S. Army Ranger
Sergeant Bradley Crose – U.S. Army Ranger
Specialist Marc Anderson – U.S. Army Ranger
Sergeant Philip Svitak – U.S. Army 160th Special Operations Aviation Regiment.
Military leaders say Chapman and his team fought al-Qaeda forces while rescuing a Navy Petty Officer First Class Neil C. Roberts, who fell out of a helicopter which sustained enemy fire.
Chapman enlisted in the Air Force in 1985 and in 1989 cross-trained to become a combat controller, serving with the 1721st Combat Control Squadron at Pope Air Force Base in North Carolina. He also spent three years at the 320th Special Tactics Squadron in Okinawa, Japan before being selectively hired for special duty assignment at the 24th Special Tactics Squadron
He was the first combat controller ever to have earned the Air Force Cross.
Other awards and decorations include: the Purple Heart, Air Force Commendation Medal with one device, Joint Service Achievement Medal with one device, Air Force Achievement Medal with one device, Air Force Outstanding Unit Award with two devices, Air Force Good Conduct Medal with four devices, National Defense Service Medal, Air Force Longevity Service Award with three devices, Non-Commissioned Officer Professional Military Education ribbon, Small Arms Expert Marksmanship ribbon, and the Air Force Training ribbon.