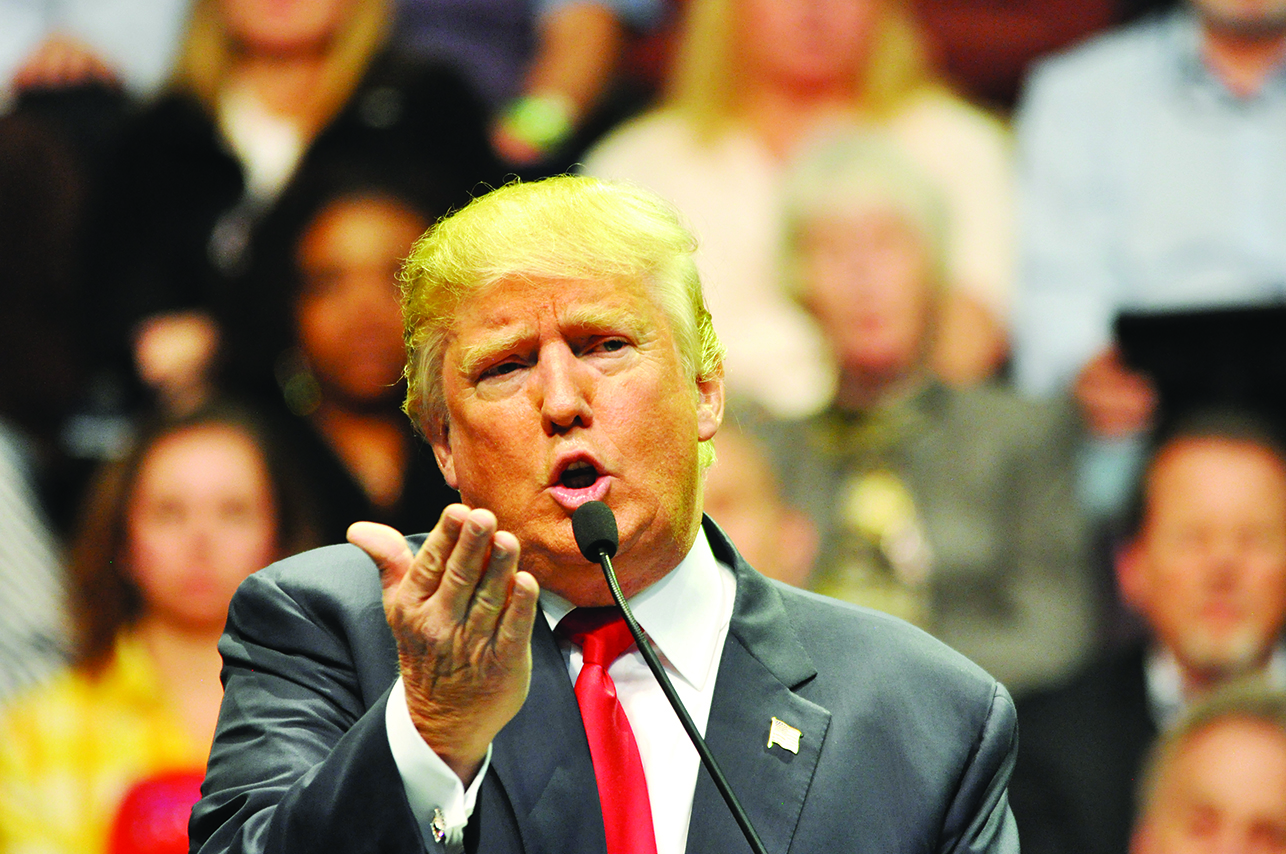 Navarre resident James Calkins and other Trump campaign volunteers were ecstatic with Tuesday night's election results after Trump took the lion's share of Santa Rosa County votes.
James and his wife, Maria, are part of a group of local volunteers who have been saturating Navarre with Trump campaign signs. The Calkins have also traveled to three of Trump's rallies in Pensacola, Mobile, Alabama and Biloxi, Mississippi.
"I believe Trump fits this area well. He appears to strongly connect with military and conservative communities. And his conservative message is resonating with Navarre and Santa Rosa County," Calkins said.
Santa Rosa County is a Republican stronghold with 58 percent, of active registered voters signed up with the GOP party — compared to just 21 percent for both Democratic and all other party affiliations.
Out of 34,580 Republican votes cast during the Presidential preference primary, Trump received 16,044 — more than doubling the votes of his closest rival, Marco Rubio, who took 7,913 votes but suspended his Presidential campaign after losing his home state and its 99 delegates to Trump.
Ted Cruz came in third with 7,483 votes, and although John Kasich only took 1,956 local votes, he won his home state of Ohio, earning its 66 delegates for a total of 142.
However, with only 1,103 delegates remaining after Tuesday, Kasich will not be able to amass the 1,237 delegates necessary to secure the Republican party nomination by the end of June.
Cruz also faces a challenge, having garnered just 396 delegates so far.
It's questionable if Trump, who also won Missouri, North Carolina and Illinois on Tuesday and now stands at 646 delegates, can capture enough delegates to avoid an uncontested bid at the Republican convention, which will be held July 18-21 in Cleveland, Ohio.
But avid supporters like Calkins maintain hope. "I believe (Trump's) going to have to win over 60 percent of the delegates to secure nomination. But I still think he can get enough," he said.
On the Democratic side, Santa Rosa's 8,179 blue voters added up to 3,938 votes for Hillary Clinton and 3,602 for Bernie Sanders. Clinton has 1,132 and Sanders has 818 of the needed 2,383 to win their party's nod.
Overall Santa Rosa County experienced a 43.71 percent voter turnout. "It was great," said Supervisor of Elections Tappie Villane, attributing part of the slightly higher than normal Presidential primary participation to the addition of two new early voting sites at Tiger Point Community Center and in Pace.
Villane also extended her gratitude to more than 300 local poll workers and volunteers who have been helping out for a few weeks. "We could not do what we do without them," she said.
For more information visit www.votesantarosa.com.