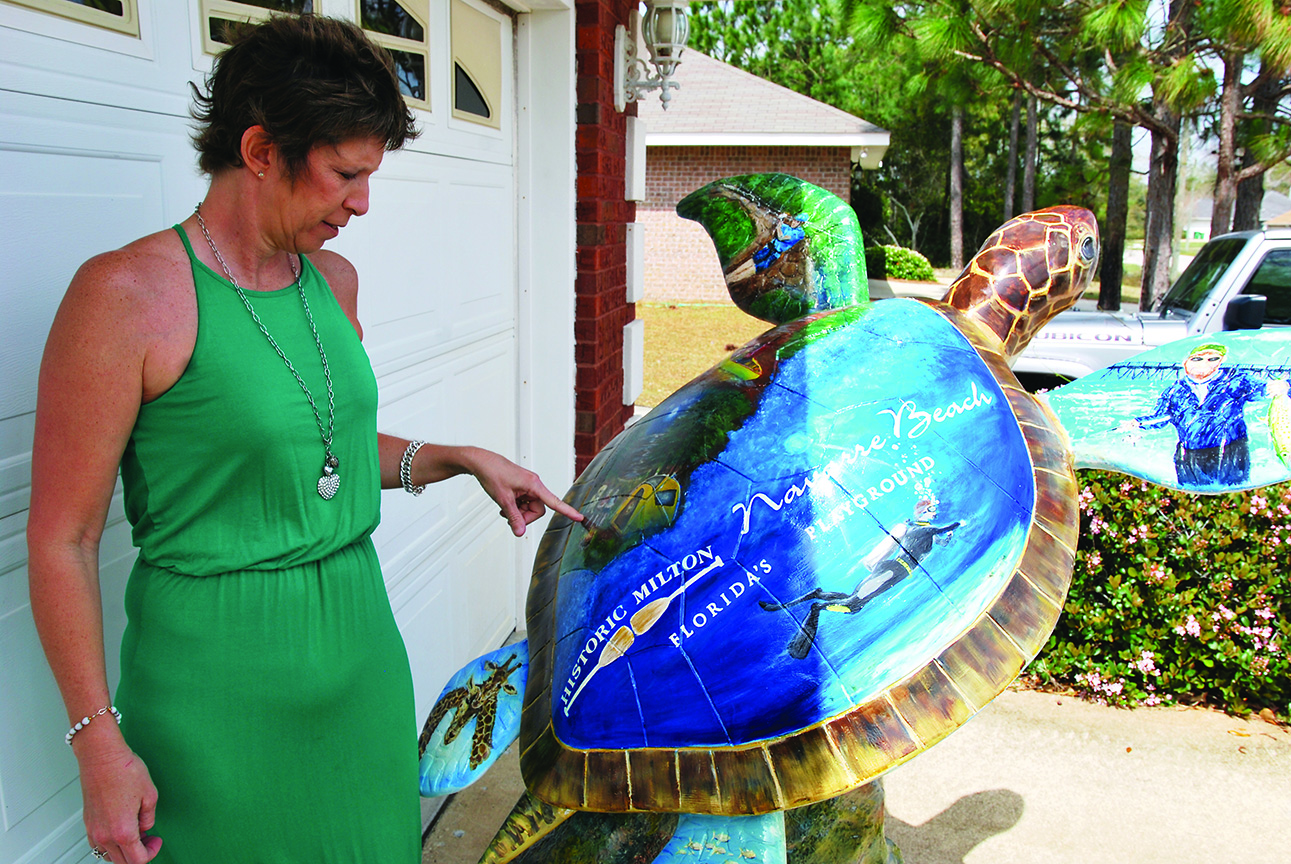 A Navarre resident has finished up some last minute touches on her first major public piece of artwork that will sit outside of the Florida Welcome Center in Escambia County over the next year.
The piece of art will greet tens of thousands of visitors at the entrance to the welcome center starting on May 1, and is geared towards showcasing every aspect that Santa Rosa County has to offer.
And while the painted sea turtle will be candy to people's eyes who glance at it when they arrive at the visitor's center on Interstate 10, the art has a deeper meaning to the Santa Rosa County resident who hand-painted the piece over the last several weeks.
Holley-by-the-Sea resident Alicia Hansen for years has battled breast cancer. And to keep her mind off of the illness— and as a form of therapy— Hansen picked up a paintbrush and started painting.
A little over a month ago, the resident was commissioned by the county's Tourist Development Council to work on the project. The council originally approached Bill Adair, a Gulf Breeze resident, about working on the project. But Adair, who also happens to be friends with Hansen, suggested giving the project to Hansen.
"The county originally contacted him to do the project," she said. "He didn't have time to do it, so he called me and said 'Do you think you can stop by and touch it up?"
Hansen went to view what she expected to be an easy touch up project and was surprised when she saw that the fiber glass turtle had been untouched by a paintbrush.
"I stopped by, and it was a huge white turtle," she said. "I told Bill, 'I don't know if I can handle this.'"
But through encouragement, Hansen eventually started kicking the project into high gear. Adair guided Hansen along the way to ensure the finished project would be fit for the visitor's center.
The county's Tourist Development Council was given the opportunity to have a piece of artwork at the state's visitor's center to represent Santa Rosa County and sent a proposal to the state, which was later approved.
Currently, the county only has a transparent display inside the building.
"It was a Visit Florida marketing opportunity, so it's available to anyone who partners with the state," said Santa Rosa County Tourist Information Specialist Nicole Dees, who works out of the Navarre Visitor's Center. "They have a dolphin inside the (Florida)visitor's center right now and that's owned by Clearwater's Chamber of Commerce."
This will be Santa Rosa County's first piece of artwork at the state line visitor's center, and one that Dees said should make a great first impression of the county.
"We've always had two rack spaces and a transparent display there. But this is the first time we've had a piece of art outside at the visitor's center," Dees said. "A majority of our market goes through that vicinity on their way here. So that's the first impression they will have on the county."
The artist's deadline was originally March 15, but that date was extended into April.
"The deadline was one thing that was concerning me. I knew this was a big project to do in a short period of time," Hansen said. "The scenes they wanted me to do were ones I wasn't familiar with doing. But once I got going on it, I started rolling with it."
Scenes that essentially showcase what Santa Rosa County has to offer.
An octopus for the Navarre Beach Marine Science Station, a painting of giraffes on one of the turtle's flippers to represent the Gulf Breeze Zoo and a ziplining mural to showcase what the north end of the county had to offer, just to name a few.
Having never done a major art project, the local said she was nervous about getting the piece done on time and what people would think about it. But for her, it was therapeutic and she took her time with every detail.
"Through school I took art classes and stuff like that, but I never touched on it and got back to it. I was working and raising my daughter and didn't have time to get into it. And then I became sick in 2010 and got diagnosed with breast cancer, so I stepped back and started thinking in my head 'What would help as far as therapy?'"
Her answer to that question? Picking up a paintbrush.
"It's therapeutic. My cancer came back a year ago, so I went through treatment again. It's just a way for me to relax," Hansen said.
Although the resident has been cancer free for several months, she said there is a chance it could come back, but is hopeful it will stay away for good this time.
"I was diagnosed with Stage 4 breast cancer…my doctor told me he was hopeful it would not come back again," she said.
The turtle mural is currently in the process of being mounted to a concrete slab at the Navarre Visitor's Center.
Once completed, the piece will be transported to Escambia County where it will remain at the state line visitor's center for a year starting in May. It will be up to the TDC whether they want to renew the contract another year with the state and keep the turtle at the visitor's center past May 2017.
"Hopefully they'll want to renew it another year," she said. "They (county) did agree to let me take it home and work on it here, so that was nice."
Like most artists, Hansen added a personal touch to her piece by painting a stingray on the underbelly of the turtle canvas.
"I enjoyed doing it. It was a lot of fun and I'm glad I was given the opportunity to work on it," Hansen said.