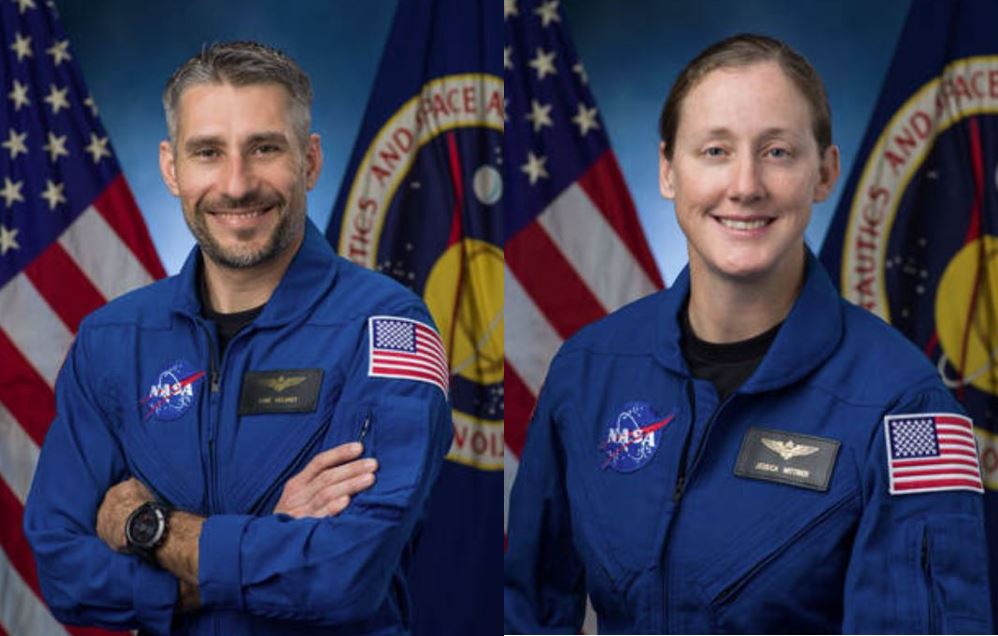 NASA on Monday announced 10 new astronaut candidates who were chosen from a field of more than 12,000 applicants. Among those selected are two pilots who trained at NAS Pensacola: Luke Delaney (Major, USMC, Ret.) and Jessica Wittner Lieutenant Commander, U.S. Navy
NASA Administrator Bill Nelson introduced the members of the 2021 astronaut class, the first new class in four years, during a Dec. 6 event at Ellington Field near NASA's Johnson Space Center in Houston.
"Today we welcome 10 new explorers, 10 members of the Artemis generation, NASA's 2021 astronaut candidate class," Nelson said. "Alone, each candidate has 'the right stuff,' but together they represent the creed of our country: E pluribus unum – out of many, one."
The astronaut candidates will report for duty at Johnson in January 2022 to begin two years of training. Astronaut candidate training falls into five major categories: operating and maintaining the International Space Station's complex systems, training for spacewalks, developing complex robotics skills, safely operating a T-38 training jet, and Russian language skills.
Upon completion, they could be assigned to missions that involve performing research aboard the space station, launching from American soil on spacecraft built by commercial companies, as well as deep space missions to destinations including the Moon on NASA's Orion spacecraft and Space Launch System rocket.
"Each of you has amazing backgrounds," Pam Melroy, former NASA astronaut and NASA's deputy administrator, told the candidates. "You bring diversity in so many forms to our astronaut corps and you stepped up to one of the highest and most exciting forms of public service."
Applicants included U.S. citizens from all 50 states, the District of Columbia, and U.S. territories Puerto Rico, Guam, the Virgin Islands, and Northern Mariana Islands. For the first time ever, NASA required candidates to hold a master's degree in a STEM field and used an online assessment tool. The women and men selected for the new astronaut class represent the diversity of America and the career paths that can lead to a place in America's astronaut corps.
The 10 candidates are: are: U.S. Air Force Maj. Nichole Ayers, Christopher Williams, U.S. Marine Corps Maj. (retired.) Luke Delaney, U.S. Navy Lt. Cmdr. Jessica Wittner, U.S. Air Force Lt. Col. Anil Menon, U.S. Air Force Maj. Marcos Berríos, U.S. Navy Cmdr. Jack Hathaway, Christina Birch, U.S. Navy Lt. Deniz Burnham, and Andre Douglas.
Delaney is a Florida native and was a distinguished naval aviator participating in exercises throughout the Asia Pacific region and conducting combat missions in support of Operation Enduring Freedom. As a test pilot, he executed numerous flights evaluating weapon system integrations, and served as a test pilot instructor. At the time of his selection as an Astronaut Candidate, Delaney worked as a Research Pilot at NASA's Langley Research Center where he supported airborne science missions. He earned a bachelor's degree in Mechanical Engineering from University of North Florida, Jacksonville, in 2006. Following his undergraduate education in engineering, he reported to The Basic School at Marine Corps Base in Quantico, Virginia. He commenced primary flight training at Naval Air Station Pensacola. He went on to earn his Naval Aviator wings in 2008 and a master's degree in Aerospace Engineering from the Naval Postgraduate School, Monterey, California, in 2016. Delaney executed over 400 combat sorties accruing more than 550 combat flight hours. Including his NASA career, he has more than 3700 flight hours on 48 models of jet, prop, and rotary wing aircraft.
Wittner is a California native who earned a bachelor's in aerospace engineering from the University of Arizona, Tucson,in 2009 and a master's in aerospace engineering from the U.S. Naval Postgraduate School, Monterey, California in 2018. She enlisted in the U.S. Navy in 2001 as an aviation machinist mate where she worked as an aircraft mechanic prior to acceptance in the Navy's Seaman-to-Admiral-21 Commissioning Program in 2006. She attended U.S. Navy flight training in Pensacola, Florida, and earned her wings of gold in Meridian, Mississippi, in 2011. She was later selected to attend U.S. Naval Test Pilot School in Patuxent River, Maryland, as part of Class 150. Upon graduation, she was a test pilot and project officer with Test and Evaluation Squadron VX-31, the Dust Devils, in China Lake, California. She led multiple engineering teams in the development and flight test of mission-critical capabilities for the F/A-18E-F Super Hornet. At the time of her selection, Wittner was assigned to Strike Fighter Squadron VFA-151, the Vigilantes, as a department head.