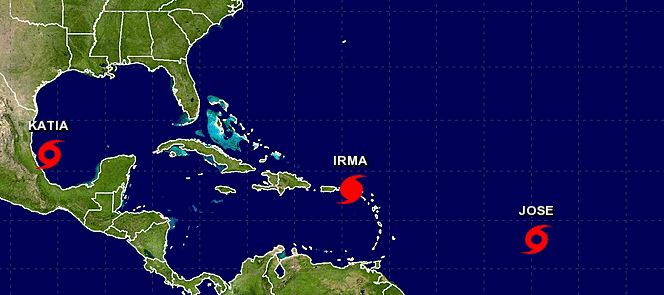 Tropical Storms Jose and Katia are expected to become hurricanes this week, according to the National Hurricane Center's 10 a.m. CST updates.
Jose became the 10th tropical storm of the 2017 season on Tuesday. Currently the storm has sustained winds of 70 mph and is located 11135 miles east of the Lesser Antilles.
Meteorologist Ryan Maue said although Jose is expected to become a major hurricane, it is expected to "head north into open Atlantic." Computer models are mostly in agreement on that forecast.
Meanwhile Tropical Storm Katia is also predicted to become a hurricane, and a hurricane watch could be issued for portions of Mexico later today, stated the NHC update.
Presented T.S. Katia has sustained winds near 45 mph, and its center at 10 a.m. CST was located near latitude 21.7 North, longitude 95.9 West, and the storm is moving slowly toward the east-southeast near 5 mph.
"Little motion is expected during the next day or so," stated NHC Forecaster Lixion Avila, "Strengthening is forecast and Katia could become a hurricane before it approaches the coast of Veracruz in a couple of days."
Computer models are in agreement that Katia's path will take it toward the Mexican coast.