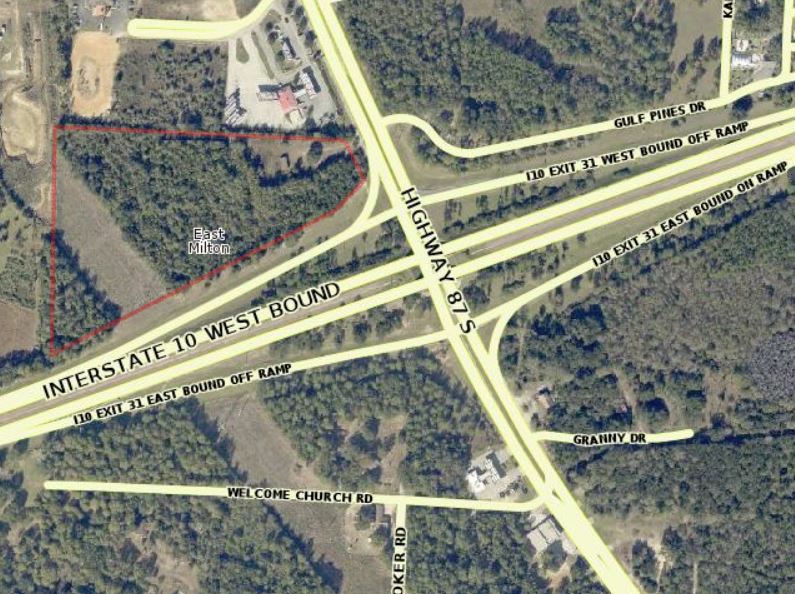 A 13.69-acre parcel of land adjacent to Interstate 10 on Hwy. 87 S is being eyed for development of restaurants and a truck stop.
The site plan for the development depicts a truck stop with fuel canopies, retention pond and two free-standing restaurants with drive-thru capabilities.
A Nevada developer, Evolve Development Management and Construction, submitted a request to the county zoning board, seeking to amend the future land map for the parcel from rural residential agriculture to commercial.
The request also seeks to change zoning to Highway Commercial Development District, which allows for a wide range of uses appropriate and easily accessible to major transportation corridors. Presently the parcel is zoned as Rural Residential Agriculture District, which allows detached single family residential structures and mobile homes.
RP Ventures, LLC, a California-based company purchased the land in February 2017 for $150,000. The company owns an existing Exxon gas station on an adjacent parcel.
Per county documents, there will be no commercial access from Hwy. 87 S other than via Keshav Taylor Road, which currently links other commercial property, including Waffle House and Holiday Inn Express.
Rick Cheney, representing Evolve Development, told South Santa Rosa News on Thursday that tenants have not yet been identified for the future development. "We're focusing on the rezoning first," Cheney said, adding, "There's already quite a bit of interest."
The zoning board will discuss the matter during their November 8 meeting, which starts at 6 p.m. and takes place at the Tiger Point Community Center, located at 1370 Tiger Point Lane in Gulf Breeze.