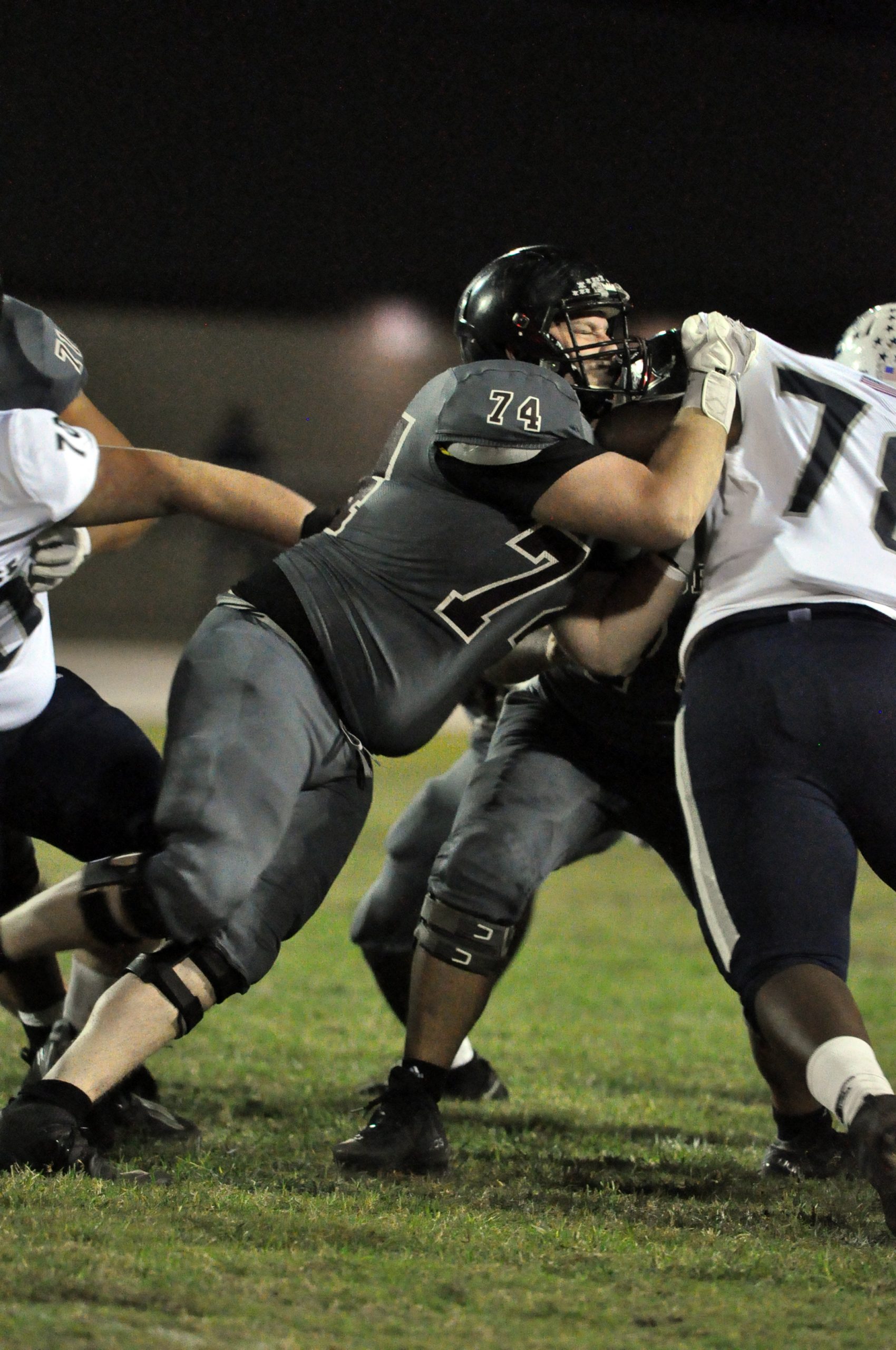 Preston Brewer and the rest of the veteran offensive line returned to the field and manhandled the Wildcat defense on both running and passing downs. (Photo by Stuart Camp)
The return of the monstrous offensive line Friday pushed the Raiders to a 42-28 victory over the Enterprise Wildcats (7-3).
Sitting at home for two weeks – after exposure to coronavirus – getting back on the field meant trouble for the visiting Alabamians. The proof came in a running attack accumulating 242 yards and five rushing touchdowns in the game.
A.J. Arno hauled in the lone passing TD, pulling in a 61-yard strike from Zach Marquis to put the Raiders up 14-7 early in the second quarter.
The offensive success can be attributed – in part – to the experienced, front-five blockers.
"It was great having everybody back, including myself," said line coach Greg Greenhaw, who was quarantined as well. "My guys were hungry. They were ready to come out and hit somebody."
There were gaping avenues for the Raider ballcarriers to exploit. Jaden Rivera got another hat-trick of touchdowns on the night. Marquis added one, and Bailey Houston went airborne for his two-yard scoring plunge.
On passing plays, the quarterbacks were well protected, too.
"It was absolutely amazing getting to know that these guys were back and protecting me," said Jason Deal. "I was standing in the pocket … I just felt great."
Head coach Jay Walls said: "Having all our starters back made a huge difference. It's a lot easier to call plays when you can get second and medium or second and short."
Navarre went 10-for-13 on third-down conversions.
"Our guys were really playing physical – offense and defense," Walls said. "We did a great job defending the run, forcing them to throw when they didn't want to."
With all their success moving the ball on offense, the Raider defense struggled against Enterprise's passing attack. Well, that's not entirely true. The Wildcats quarterback Quentin Hayes eluded the pass rush on two scoring plays – accounting for 117 of their 182 total yards gained in the air. All four Enterprise touchdowns were on pass plays – two to wideout Jared Smith.
Hayes spent a healthy amount of time with Raiders in his face.
"Getting penetration really helped our linebackers flow over the top and make plays," defensive tackle Lemuel Wilson said. "I give it (defensive fortitude) like a six-out-of-10; we could've done better. We got pressure toward the end, and it helped us seal the game."
Simple stats: Enterprise outgained the Raiders in total offense – 365 to 334; but half of the Wildcats' yards came in the air.
Enterprise enters it's post-season with this loss as an anchor.
Navarre faces Crestview (1-5) next – playing 7 p.m. Thursday in Crestview, as the final regular season matchup before the playoffs. The Bulldogs dropped a 28-20 decision against Escambia (6-0) this week.