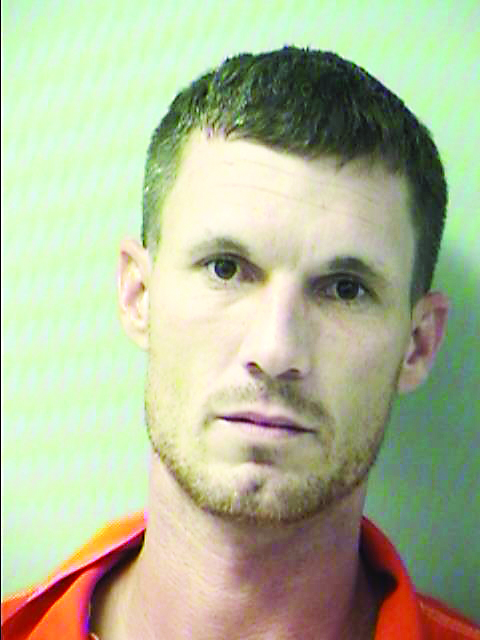 State Attorney Bill Eddins announced last Friday that Daniel Ferry Lee, III, 31 of Cantonment — the man who robbed the Underwood Food Mart in Holley last November — entered a guilty plea to Robbery and Fleeing or Attempting to Elude Law Enforcement at High Speed. He was sentenced to 15 years in state prison as a Prison Releasee Reoffender.
On November 10, 2015 Lee entered the Underwood Food Mart in Holley brandishing a kitchen knife.
Lee entered the store wearing flip flops, and his clothing was covered by a large black garbage bag.
According to his arrest report, the suspect's face was covered with a hoodie, a green costume mask, and a white bandana.
Video surveillance later revealed that Lee was also wearing khaki shorts underneath the trash bag.
Upon entering the store with the knife, Lee demanded that the clerk empty the cash register and give him a bag full of energy shots that were behind the counter.
Lee left the store with $363 in cash and approximately $220 worth of energy shots. The entire robbery lasted less than one minute.
Lee then entered a vehicle he had parked next to the store and quickly departed north on Highway 87 South.
Law enforcement eventually caught up with Lee as he approached Interstate 10 and pursued him as he headed westbound on I-10.
While on I-10, Lee threw multiple items from the vehicle including the garbage bag, which had arm holes cut out, and a white bandana that were used during the robbery.
Lee then exited I-10 at Ward Basin Road in Milton and headed south, but he came to a dead end and turned around.
Lee was able to get back on I-10, but the second time around, the suspect headed eastbound and was able to elude law enforcement. During most of the chase, Lee drove in excess of 100 mph.
Shortly thereafter, a suspicious vehicle without a tag and matching the description of Lee's vehicle was reported abandoned behind a building in Holt.
The Okaloosa County Sheriff's Office located Lee walking along the side of Highway 90 in Holt and took him into custody.
Lee was wearing flip flops and khaki shorts when he was arrested. He later admitted that a gray hoodie sweater located in nearby woods, which matched what was worn during the robbery, was his.
Authorities also discovered that green pieces of fuzz, which appeared to match the green mask worn in the robbery, were located inside the hood of the gray sweater.
Lee was released from prison on October 8, 2013, which under Florida Law qualifies him as a Prison Releasee Reoffender (PRR). In light of the PRR designation, Lee must serve the full 15 years of his sentence without the possibility of gain time.