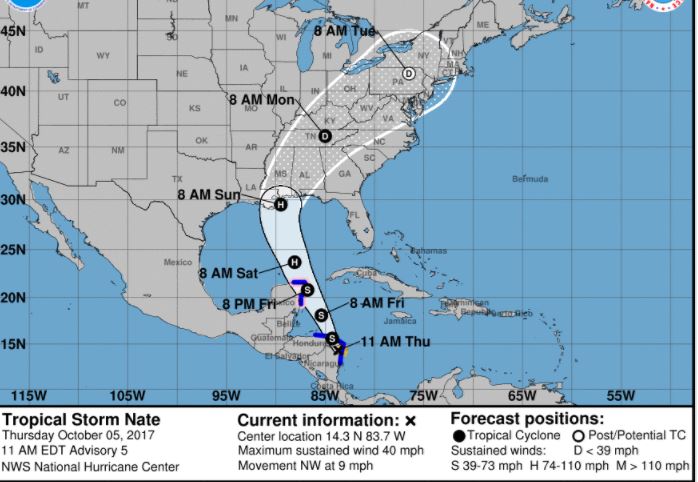 The National Hurricane Center has issued its 11 a.m. EDT advisory on Tropical Storm Nate with no significant changes from its 8 a.m. EDT update.
The storm has sustained winds of 40 mph and is moving NW at 9 mph.
"Little change in strength is expected today while the center is over land. Strengthening is likely once the center moves over the northwestern Caribbean Sea tonight and Friday, NHC Forecaster Jack Beven stated in the latest update.
Tropical-storm-force winds extend outward up to 70 miles mainly over water to the east of the center per NHC data.
The Santa Rosa County Emergency Operations Center is not activated at this time, staff are watching the system closely and participating in conference calls with the National Weather Service and State Emergency Operations Center, according to a county press release which stated there are no local actions at this time.
"Santa Rosa County is monitoring TS Nate and starting our pre-storm preparations. We encourage residents to do the same. Top off supplies – including sand bags if needed, review their disaster plans and check around their homes for any loose items that could pose an issue with increased winds. We will keep the public notified on any local actions," Santa Rosa County Emergency Management Director Brad Baker said.
The release stated it is "still too early to determine to what extent Nate may impact our area." Emergency management officials are asking residents to stay alert and monitor local media for the latest weather forecasts.
Meanwhile, there are several easy steps residents can take now to make preparations and reduce stress:
•Be safe! Follow all weather advisories.
Beachgoers, swimmers and surfers should heed red flag warnings and stay out of the water as deadly rip currents and rough surf conditions are expected.
•Review, update or make a disaster plan.
Check www.santarosa.fl.gov/KnowYourZone. If you live in a mobile home, or an evacuation zone, know where you will go and how you will get there. Shelters are a last-resort option. You will be much more comfortable with family, friends or a hotel. And don't go far – think in terms of tens of miles, not hundreds. Update your photo or video inventory of your home, vehicles and belongings and store online or on your mobile device.
•Top off your supplies
You should have three to five days' worth of nonperishable food, medications and at least one gallon of water for each person and pet per day. Remember, you can reuse clean, empty gallon jugs for water. Fill and freeze them to help keep your freezer cold (saves energy too!). Have a good stock of batteries and extra gas for your generator. Test your generator.
•Check your yard.
Look around your house for dead trees or loose limbs which could cause damage in high winds.
•Stay updated. Tracks can change quickly. Tune into local media regularly.
Preparations taken by Santa Rosa County
•Santa Rosa County is making limited supplies of sand available at no cost at several locations. Sand bags are available at local home improvement stores for purchase (Hall's Hardware in Milton, Lowe's in Midway and Pace). Bring shovels to fill and load your own bags.
-Leisure Street at Citrus Drive in Holley By the Sea
-Tiger Point Park in Gulf Breeze
-Pace Fire-Rescue in Pace
-The corner of Pine Forest Road and Carroll Road in Milton
General information
•More information is available in our latest all-hazards disaster guide online or at county offices and libraries, local chambers of commerce, and local retailers.
•Your best defense in any disaster is a NOAA Weather radio.
•Citizens may call (850) 983-INFO (4636) with questions.
The next NHC advisory will be issued at 2 p.m. EDT/1 p.m. CDT.