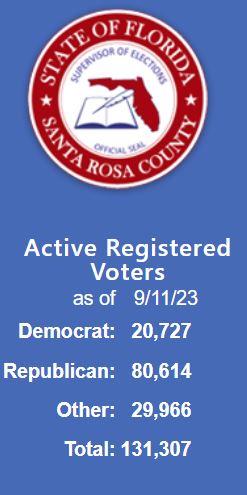 The Santa Rosa County Supervisor of Elections notice has just completed its annual List Maintenance program. As of September 11, Santa Rosa County has 131,307 active registered voters comprised of the following:
80, 614 Republicans (61.5%)
29,966 Other (22.8%)
20,727 Democrats (15.7%)
Per Florida Statute 98.065, Address Confirmation Final Notices were mailed to voters due to one or more of the following reasons:
Mail to the address of record was recently returned as undeliverable.
We received information the address of record has changed to a location outside of Florida.
According to our records the person has not voted in the last two election cycles, nor have they requested to update their voter registration record.
Voters had 30 days to respond to the mailing. Per Florida Statute 98.0655, if the form is not returned, the voter's name shall be designated as inactive in the statewide voter registration system and confirmation of the voter's address of legal residence may be required before the voter is authorized to vote in an election.
Santa Rosa County Supervisor of Elections Tappie Villaine said as a result of the update, a total of 17,911 voters were moved to inactive status.