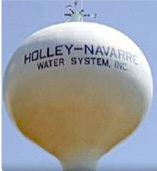 Tuesday night Holley-Navarre Water System board members discussed changing how the utility conducts elections — but stopped short of taking action, tabling the matter until all board members can be present to vote.
HNWS Executive Director Billy Sublett told attendees he'd like to mail a letter to the utility's 16,000 members ahead of the January 19 election, requesting them to vote in person on that date or request a proxy no later than one week prior to the election.
"Why are we changing the way we've done proxies all these years," asked board member Will Goulet.
Sublett said asking members to request a proxy was "just cleaning up the process."
Historically, the utility mailed out a proxy to each customer. But some allege that process created opportunities for elections to be manipulated.
Board member Troy Bossier said in the past people were retrieving proxies from dumpsters. "Whoever collects the most proxies wins. That is not a true election," he said.
Bossier also said there had been claims of stolen proxies in prior elections. "The election system as it stands right now needs to be tweaked," he said.
"So you're saying there was fraud in a past election," questioned Bien May, HNWS vice president.
"That sounds bizarre to me to go into a dumpster to get proxies," board member Robert Coley said.
"Let's quit tip toeing around the issue. We had 1,100 votes cast last year , and 900 of them were controlled by two people," said Daryl Lynchard, board president, who pointed out the organization's bylaws state proxy votes must be used but do not detail how those must be implemented.
"Seems to me you're going to get a lot less participation this way," Coley said.
May expressed concern that altering the process could potential limit a member's right to vote, exposing the utility to liability, citing an example of deployed service personnel requesting but not receiving a proxy in time to vote.
"We don't have candidates until December 15, so we can't do anything before (then)," Sublett said.
Bossier suggested sending out the letter earlier. "Do it in November. Do it in October," he said.
Goulet suggested reaching out to members to ask how they would like to conduct the election.
May noted that members Gaius Bruce and James Calkins were absent. So Lynchard moved to table the issued until all member could be present, and Goulet seconded the motion.
The next HNWS board meeting is scheduled for 7 p.m., Oct. 20, at the HNWS boardroom, located at 8574 Turkey Bluff Lane in Navarre.