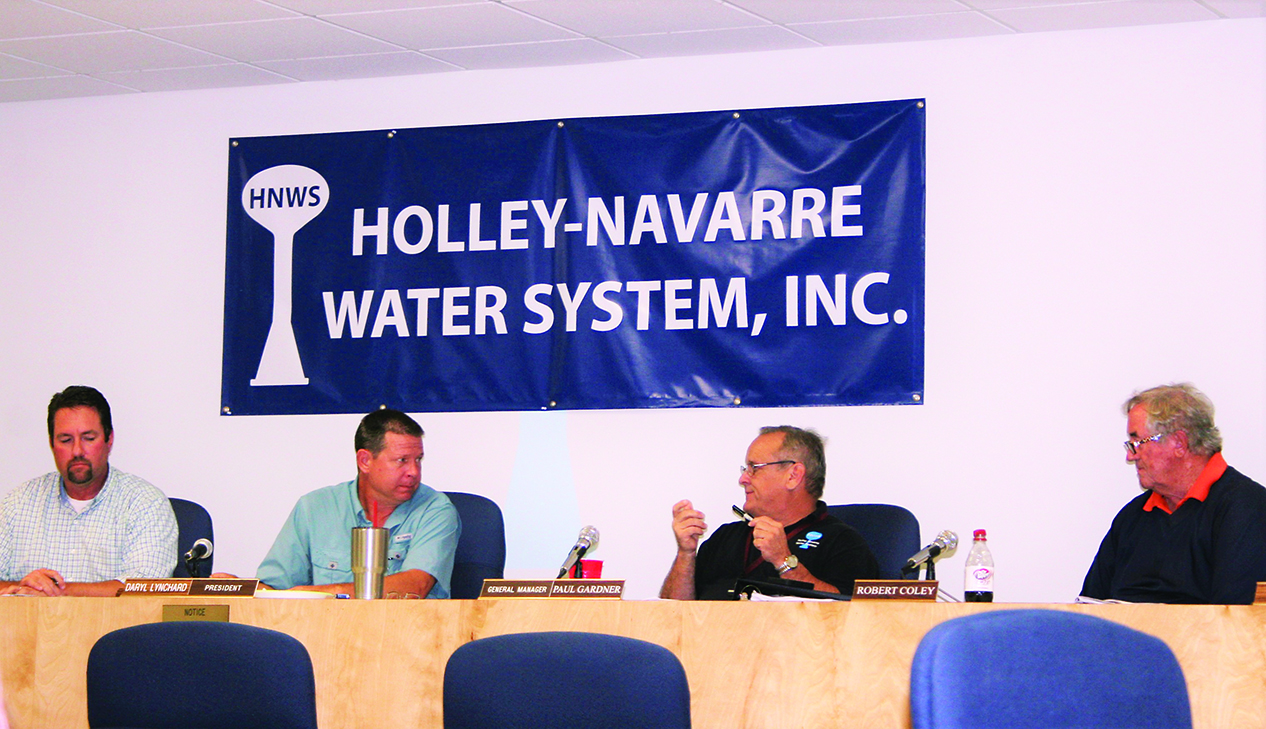 South Santa Rosa News file photo
The Holley-Navarre Water System Inc., will hold its Annual Meeting, including the election of directors, on January 15, 2019.
This year's candidates are: Joseph "Joe" Aguirre, Joseph Genovese, Yvonne Harper, Jennifer Jones, Mike Kennedy, Kevin Lanier, Douglas Larson and Fred Terasa.
Joe Aguirre has experience as a Business Development Specialist and Real Estate Development. Community involvement include NYSA, Take stock in children Florida Turfgrass Association, and past chairman of multiple charity efforts. Personal interest is spending time with his family. Goals include enjoying retirement while always trying to add benefit to the community.
Joseph Genovese is an 18 year Dunkin Donut Franchisee, 4 years Branch Manager for Koorsen fire, and Owner of One Source Home Inspection for 5 years. Community involvement include Navarre Areas Board of Realtors. Personal Interest is spending time with his family. Goals are running a successful family business.
Yvonne Harper is a Florida Native; Eight-year Navarre resident; U.S. Navy Veteran; ESL Teacher; College Representative and Facilitator; Adjunct Professor; Reporter; Architecture Supervisor; Navy Squadron Ombudsman; HBTS Board President; NBSTCC Board President; B.A. Political Science; M.A. Public Policy; CAM License. World view: "…truth and right are invariably the same in all times and in all places; and reason, pure unbiased reason, perceives them alike in all times and in all places." John Adams
Jennifer Jones is currently working her Bachelor's Degree in Business Management. She is a full time mother of 3 while working as a Claims Coordinator. Personal interest is spending time with her family to show them that no matter what, you should always follow your dreams and reach for the stars. Goals are to grow and obtain more experience within herself and pushing to be a better person both inside and out. Jennifer wants to be the voice of the members and employees of HNWS. She wants to be able to set good policy that benefits the membership and employees and create a fiscally responsible atmosphere that helps the company grow while maintaining a sure foot and safe environment for those that are employed by HNWS.
Mike Kennedy is a successful business owner with 25 years' experience with business and software consulting for Fortune 500 companies. Community involvement includes: Assistant Coach for The First Tee Kids Golf at Hidden Creek and a former HOA Board of Directors member. Goals include: Develop a multi-year master plan listing goals that are important to the HNWS Company and members. Use better technology to communicate the vision and status of goals and initiatives over time. Improve the websites to better communicate events, activities, or changes at the company and the golf course. Develop more robust procedures for member feedback. To be fiscally responsible. Improve on HNWS assets, such as Hidden Creek Golf Course, so the assets continue to provide a good return on investment to the members.
Kevin Lanier: My wife, Lisa, and I have lived in Holley by the Sea since June 2011. Before that, we lived in Clayton, Georgia. I am a Florida native, born in Orlando. In my spare time I enjoy brewing beer. Prior work responsibilities have included management and business development. My two years as a Board member for Holley by the Sea has taught me the value of listening to members and how that can make or break the ability to affect positive change. I intend to use these strengths to grow trust and communication between the HNWS and membership. While HNWS is not required to operate under the State Sunshine laws, there is no reason not to be transparent to the membership.
Doug Larson served as the appointed Secretary/Treasurer for the HNWS board from Jan-Jun 2018. He was appointed as director on the board in June and continued his seat as Secretary/Treasurer. Doug has 25 years' experience in the collision industry and 10 years as Sole Proprietor running his Screen Printing Business in Navarre. Community Involvement include, indirectly involved in many organizations in Navarre through financial donations or helping hand involvement. Personal interest is spending time with his family. Goals include, being a simple person and keeping his promise. Assisting with new policies and procedures. There are still many challenges ahead and I'm willing to spend my time to help HNWS reach them while setting the best policy possible for the benefit of the membership.
Fred Terasa, a resident of Holley By The Sea, is a retired Army Officer and also enjoyed 19 years in Higher Education Administration at TCU, UGA, and NSULA. His Community Involvement includes: President of The Rotary Club of Natchitoches, LA (2016-17); Managing Director of the Natchitoches Christmas Festival Parade (2013, 2014, 2015); and Chief of Staff (Board Chair) of the Northwestern State University Demon Regiment, an Army ROTC Alumni Organization (2013-16). Personal Interests are Home improvements, lawn and yard maintenance, fining dining, golf, reading, and beach time with his wife, Kay. Fred's HNWS Goals include: To serve HNWS membership (Our Owners) through open communication and collaborative leadership; To utilize his collaborative leadership style to assist the HNWS Corporate Board in directing the affairs of the System via fair, honest, and transparent deliberation and decision making; To offer his Visioning Process facilitation expertise, to enable the HNWS Corporate Board, in collaboration with a broad base of Stakeholders, to develop a clear future direction for the Club at Hidden Creek (TCHC) by creating TCHC Values, Critical Issues of the future, and Mission and Vision statements.
The annual meeting will be called to order at 7 a.m., and voting will take place from 7:30 a.m. till 7 p.m. in the System's Boardroom, located at 8574 Turkey Bluff Road. Anyone needing additional information may contact Barbara Carawan, Administrative Operations Manager, at Holley-Navarre Water System at 850-939-2427.