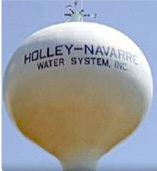 The Holley-Navarre Water System board of directors on Tuesday approved an organizational restructuring plan which officials say positions the utility for the future growth of Navarre, ensuring the organization is "financially strong for decades to come."
HNWS Vice President Will Goulet said the move also sets up the utility to be able to hire a Chief Financial Officer to better manage financial dealings and improve financial reporting to the board and its members.
"The restructuring plan achieves several other important goals. First it creates a management hierarchy that will improve communications and accountability within the ranks and at the manager level and with this board. We will have increased accountability at each level to ensure that HNWS is well run and is in compliance with all local, state and federal regulations. Secondly, by breaking the administrative, support and customer service staff into two groups, we will improve customer service for our members and prepare the administrative staff for future changes. Third, by having the golf course, engineering company and IT Department report directly to the board of directors we will have better control over each group and reduce the burden on HNWS General Manager Paul Gardner," Goulet stated.
According to Goulet, the General Manager position was never designed to oversee multiple diverse companies.
"Lastly, the restructuring plan brings equality and fairness to our compensation and places limits on compensation for all positions within the company to help control long-term costs," Goulet said.
The position and title changes went into effective immediately, and payroll changes will take effect at the start of the next payroll cycle.
"It allowed the company to implement cost-saving measures while better preparing us for the future," said Goulet.