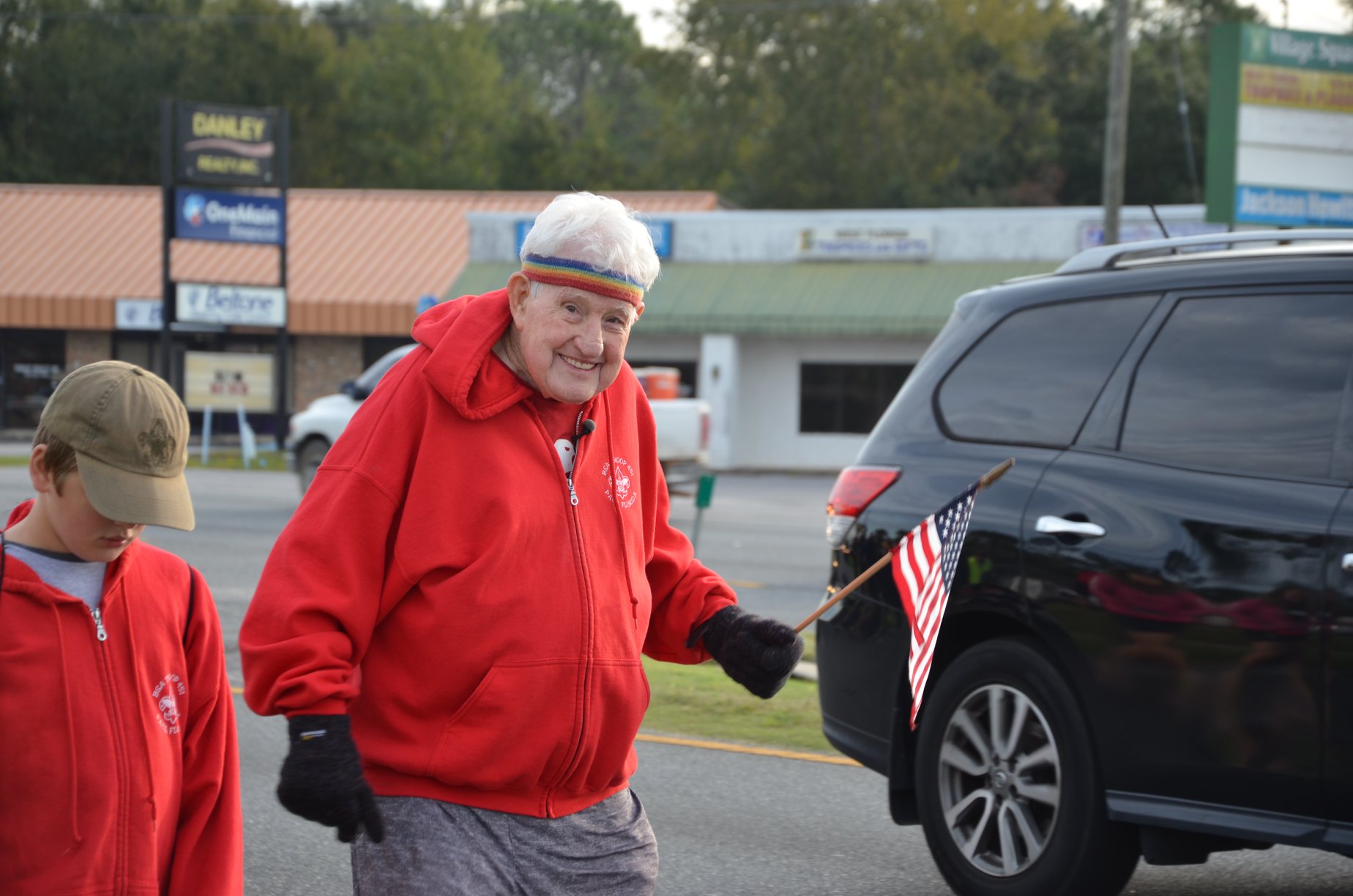 WWII Veteran Ernie Andrus is making his way across the country to raise money for the LST 325 Memorial. He made his way through the Milton area on Monday. You can check out his story at 6 p.m., November 11 on Fox News. Photo courtesy Julie Ziegenhorn
Veterans Day celebrations planned for Monday include:
NAVARRE
11 a.m. ceremony at Navarre Park (located at 8543 Navarre Parkway).
Hosted by local veteran's organizations, including Veterans of Foreign Wars Post 4407 and American Legion Post 382. Other participating organizations include Navarre High School NJROTC and local scout troops 106, 11, 484 and 401. Santa Rosa County District 4 Commissioner Dave Piech will present the Veterans Day proclamation, and Congressman Matt Gaetz will be the guest speaker. For more information, contact the American Legion, 850-936-5888. Following the ceremony, American Legion Post 382 will be serving hamburgers and hot dogs for veterans, and the public is also invited.
MILTON
9:30 a.m. parade (starts at Milton High School and ends at Veteran's Plaza)
The parade route will begin at Milton High School (from Raymond Hobbs Street) and turns south onto Stewart Street then east onto Berryhill Street, ending at Veteran's Memorial Plaza on South Willing Street.
11:00 a.m. ceremony at Veterans Memorial Plaza, located at 5191 Willing Street in Milton:
Welcome from Santa Rosa County District 3 Commissioner Don Salter
Presentation of colors by Milton High School NJROTC
Invocation by NASWF LTJG Frank J. Tillotson
National anthem by Milton High School Choir and Director Katie Wernette
Pledge of allegiance by Ethan Salter
Post of colors by Milton High School NJROTC
Proclamations by City of Milton Mayor Heather Lindsay and Santa Rosa County District 2 Commissioner Bob Cole
Coloring contest winners presented by CDR Kenneth Kerr, CO HT-18
Introduction of speaker – Commissioner Don Salter
Keynote Speaker – Commander Leroy Shoesmith
Presentation of God Bless America by Milton High School Choir, Director Katie Wernette
Laying of the wreaths – veterans organizations
Taps – Milton High School Band, Director Gray Weaver
Benediction – Pastor Jim Liberacki, East Side Baptist Church
Unveiling of liberty tree plaque
Immediately following ceremony 4H will host a cookout (donations will be accepted).

In the event of severe weather, the ceremony will take place at Milton High School. For more information, contact Vickie Powers 850-860-2427.

HOLIDAY CLOSURES
Santa Rosa County District Schools, the First Judicial Circuit Courts and the following Santa Rosa County offices will be closed Monday, November 11th for Veterans Day:
• Santa Rosa County Board of Commissioners, including the library system and animal shelter, and the offices of the Clerk of the Court, Property Appraiser, Supervisor of Elections and Tax Collector
• The Central Landfill will be open Monday, November 11
• Santa Rosa County 9-1-1 dispatch, Lifeguard Ambulance Service and fire departments are open daily.