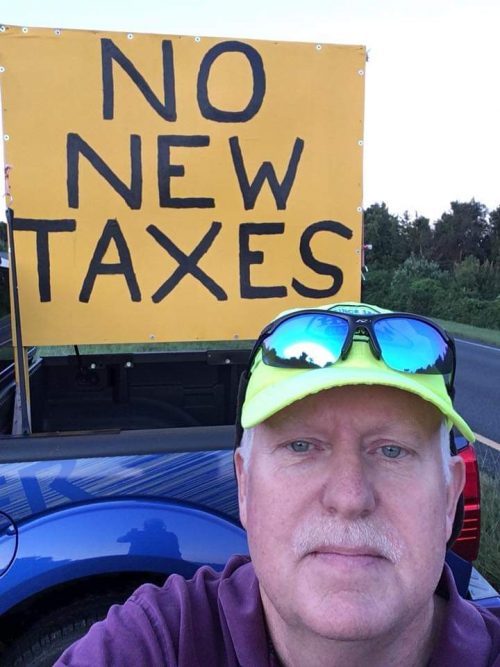 A groundswell of grassroots efforts to fight the tax increase arose all over the county. Milton resident Jerry Couey during the final weeks before the election frequently stood by his makeshift "No New Taxes" sign, waving at passersby along busy local roadways.
Santa Rosa County voters cast ballots in Tuesday's special election, rejecting by a 67-33 margin the county's local option sales tax referendum, which would have replaced and doubled the existing LOST for a period of 10 years.
Dave Murzin, a political consultant working for Moving Santa Rosa Forward, a political action committee which advocated for the tax hike, said it is "unfortunate" the referendum failed. "Perhaps they are ready for higher property taxes or will support MSTU/MSBU to solve the problems in their own neighborhoods rather than relying on someone else to pay for improvements," Murzin said following Tuesday's election.
Santa Rosa County Commission Chairman Sam Parker said he's thankful for all the citizens who voted. "The Board of County Commissioners and the county staff will continue to work hard to make the county great with the resources we have," he said.
Milton resident Jerry Couey, which vocally opposed the tax, also thanked the voters. "The citizens have clearly laid a mandate on the table that they are not happy with the current direction of our county leadership. As I have said before, this is only phase one of taking back our county. It is time that our so-called leaders learn to listens to their bosses, the people, because they are our employees," Couey said.
Santa Rosa County Supervisor of Elections Tappie Villane said typically there is a "low" turnout of around 10 percent of voters during special elections. However, 26,121 voters, nearly 20 percent, cast a ballot, including nearly 7,000 votes by mail.
Although the referendum failed, Santa Rosa's existing "half penny" LOST tax, which was approved by about a two-thirds majority in 2016, will remain in effect until it expires at the end of 2021, providing around $9 million annually.
Had the "full penny" tax referendum passed, it would have generated roughly $182 million over the next decade.
Many of those who opposed the tax increase said they wanted county commissioners to diversify revenue sources, exploring the possibility of reinstating impact fees, which were generating roughly $3.3 million per year before the board suspended the fees in 2009 and later completed eliminated them.
The opposition against the tax hike was much of a grassroots effort, arising from social media groups in Pace, Gulf Breeze and Navarre and fighting against the well-funded political action committee, Move Santa Rosa Forward.
In addition to the county spending $225,000 for the special election during a non-election year, the PAC group raised more than $115,000, buying ads on television and radio and social media.
Three other referendums were on the ballot: establishment of a special fire district for Navarre Beach, which failed to pass by a required 60-plus-1 margin, and two amendments to the City of Gulf Breeze's charter, including one related to contracting and purchasing, which failed by a 56.41-43.59 margin, and another for the county Supervisor of Elections' office to conduct city elections, which passed by a 61.79-38.21 margin.