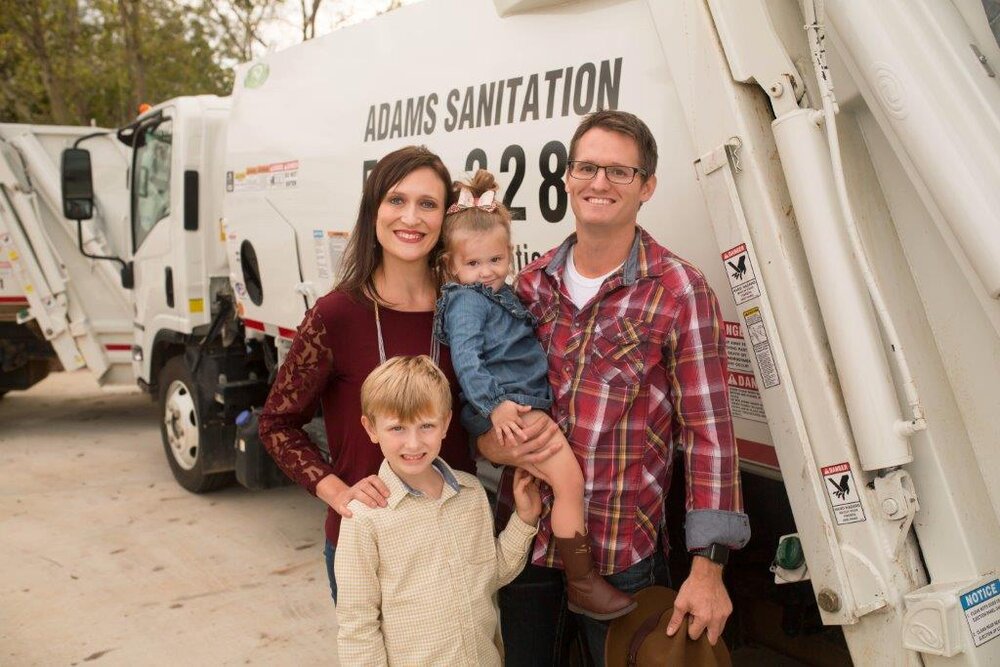 Boyles and his wife own Adams Sanitation, which is based in the community of Baker in Okaloosa County
Waste Pro has canceled a court hearing previously scheduled for Monday, November 30, according to Nathan Boyles, an attorney and Okaloosa County Commissioner who owns Adams Sanitation.
Waste Pro had initially sought the emergency hearing in an attempt to stop Adams Sanitation from soliciting business in Santa Rosa County. However, County Commissioners on Tuesday unanimously approved Adams Sanitation's appeal for a permit, enabling the small business based in Baker to move forward with providing waste hauler services in certain areas of the county not already under a valid exclusive franchise agreement.
ECUA's franchise agreement to service unincorporated areas north of Yellow River Bridge and Garcon Point Bridge expires at end of the year. Waste Pro had been seeking to exclusively take over the accounts ECUA had been servicing.
But Tuesday's board decision opened the door for Adams Sanitation, starting January 1, to also provide services in those areas. Previously only providers with trucks weighing less than 15,000 had that option.
Additionally, Adams Sanitation will be providing services for the Town of Jay.
Although it doesn't directly benefit his company, Boyles still has a countersuit aimed to hold Waste Pro to the original terms of their agreement for servicing the unincorporated areas of South Santa Rosa. The county in July had renegotiated those terms with Waste Pro, which in April 2021 will increase the price and reduce weekly household pickup from twice to once weekly. Boyles said that "drastic" change in scope should have been put out for competitive bid.
During Tuesday's county commission quasi-judicial hearing, a standing-room-only audience flowed out into the lobby. Citizens had been vocal in their opposition to the revised terms of Waste Pro's no-bid contract.
Following arguments by George R. Meade, representing Adams Sanitation, and County Attorney Roy Andrews, Commission Chairman Dave Piech initially expressed concern that approving an appeal to provide a permit to Adams Sanitation could compromise the contract with Waste Pro and subject the county to legal issues.
Commissioner Bob Cole had similar concerns and went on to accuse Adams Sanitation of taking advantage of the public's dissatisfaction over the Waste Pro deal.
But Boyles argued the changes to the terms of Waste Pro's contract had been done without public input nor press releases notifying the public of the changes beforehand.
"We're not taking advantage of anything other than market opportunity," said Boyles.
Commissioner Sam Parker expressed regret over the deal with Waste Pro and described the situation as "a culmination of bad decision after bad decision."
Parker pointed out he had asked Dan Schebler, county administrator, for a third-party legal opinion to supplement the advice issued to the board by the County Attorney. He then asked for an update on it.
"I can't provide you with any," stated Schebler, who said he had a conversation with an attorney which was "informational only" and that he had nothing in writing which he could submit to the board.
"Unfortunately, I think that leaves us with a continued handicapped," Parker said.
Additionally, Parker said the board relies on staff, which requested and received funding for a $65,000 consultant to help develop a RFP to gather competitive bids. But that RFP was ultimately not executed.
Parker said the procurement process should have started six months earlier than it did.
"We were being told at that point if we don't do something now the north end is not going to have trash service (after December). Quite frankly I feel like we were backed into the corner," Parker said.