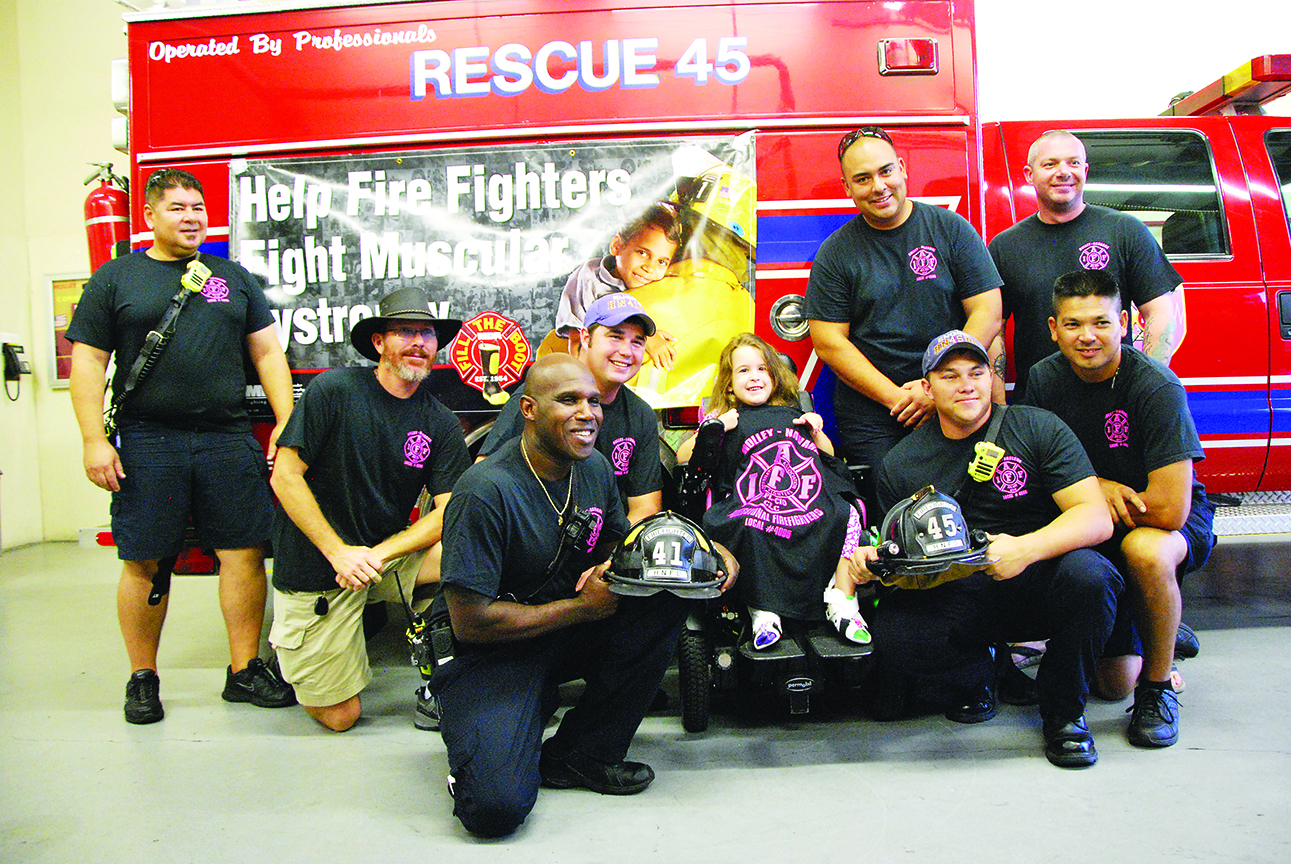 Every team has a mascot.
And for the Holley-Navarre Professional Firefighters (HNPF), their mascot over the last two years has been McKinzie Snead.
The 6-year-old first grader at Holley-Navarre Primary has spinal muscular atrophy (SMA), which robs her of physical strength by affecting her motor nerve cells in the spinal cord. The disease takes away her ability to walk and do other day-to-day activities and has left her wheelchair-bound. But it didn't stop the local from making the first donation—a dollar—to the HNPF's Fill the Boot Campaign last Tuesday night. That dollar brought a smile to the face of every firefighter in the station that evening.
Every year, fire departments around the nation help "Fill the Boot" to raise money for the Muscular Dystrophy Association (MDA).
Muscular Dystrophy is a group of diseases that cause progressive weakness and loss of muscle mass. Those who suffer from MD have genes that interfere with the production of proteins needed to form healthy muscle.
MDA helps distribute money to support families who have members who are fighting the condition—including Amyotrophic Lateral Sclerosis (ALS), SMA and related diseases. For over 60 years, Fill the Boot has been a tradition for fire stations around the nation, and this year marks the ninth year HNPF have participated in the annual drive.
"Everything we collect goes to the Muscular Dystrophy Association," said Lieutenant Patrick Moore. "Our point of contact from the state MDA actually got us in touch with someone local (Snead) who suffers from MD two years ago. We felt like if we were going to go out and collect and raise money for MDA, we wanted someone locally to benefit from it."
Snead met up with firefighters outside of Station 45 on Esplanade Street in Navarre Tuesday and gave them their first dollar. One of many the department hopes to raise on Sept. 30 and Oct. 1 outside of the Walmart Supercenter in Navarre.
In their first year participating in the Fill the Boot campaign, HNPF raised over $8,000. Last year they raised over $2,000, but hope to beat that number this year.
"McKinzie is the only one that we know of that suffers from MD that lives here in Navarre," Moore said. "She's kind of been our mascot, if you will. We've adopted her as being one of us."
McKinzie was given a T-shirt from Holley-Navarre firefighters during her visit to Station 45, and a promise that the firefighters at the fire department make every year.
"We're doing this for her. Her attitude is fantastic, Moore said. "It's important for the guys to understand why we go out and do this."
Firefighters will be set up at both entrances at the Navarre Walmart from 4 – 8 p.m. on Friday, Sept. 30 and from 8 a.m. to 4 p.m. on Saturday, Oct. 1 accepting donations for MDA.
Not all of the funds collected will go directly to Snead, but Moore said a majority of the money raised will go to her family.
"We'll have a couple of guys at each door. Whoever is off duty that day will be working the doors," Moore said. "We're all about our community and being involved in the local community. It's great to know that someone is benefiting from this locally."
Where to donate:
You can make a donation to the Muscular Dystrophy
Association at both entrances of the Navarre Walmart
Supercenter on Sept. 30 from 4 -8 p.m. and on Oct. 1 from 8 a.m. to 4 p.m.