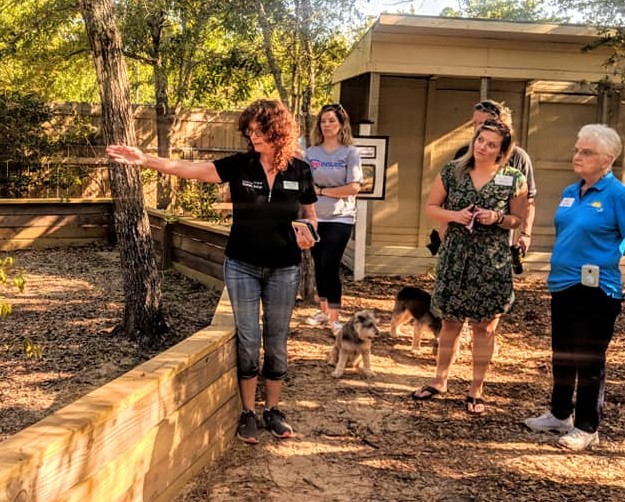 Carol "Stormy" Andersen gave members of the Greater Navarre Area Chamber an October 2 sneak peek of the future gopher tortoise habitat, which was sponsored by Herbst Homes. The habitat was constructed by David Hoar and his daughters, Morgan and Kenzie, along with Bill Andersen. South Santa Rosa News file photo.
A huge day has finally arrived for the Emerald Coast Wildlife Refuge, which opens its new headquarters in Holley Saturday — just in time to be part of the organization's 25th Anniversary.
The grand opening will take place from 9 a.m. until 1 p.m. at the brand new facility located at 3051 Clopton's Circle. A flag-raising ceremony featuring the Navarre High School NJROTC will kick off festivities at 8:30 a.m. The grounds will remain open until 3 p.m.
"We are excited to finally be opening our doors to the public after being an organization for 25 years. Our grand opening will have educational booths, craft tables, and tours of the education facility," said Bill Andersen, director emeritus of Emerald Coast Wildlife Refuge.
The Wildlife Refuge's mission for 25 years has been the rehabilitation and release of orphaned and injured wildlife indigenous to Northwest Florida. The Refuge provides wildlife rescue services and environmental outreach to five counties in Northwest Florida with a staff that is on duty 24-hours a day, seven days a week, to assist local and state agencies in managing wildlife.
The Refuge also partners with public and private schools to educate youth on the importance of conserving native species.
Donna Sue Harvell, who lives and owns a business nearby, said she and her grandchildren are excited about their new neighbors. "My granddaughters can't wait to volunteer there," she said.
Harvell believes the refuge will be an asset to the Holley community, where he husband, Scoot, was born and raised. She also praises Bill & Carol Andersen for donating the property for the facility. "It's gorgeous property. They could have developed it but instead its staying in its natural state."
Additionally, Harvell pointed out that not only will the location be more convenient than the site of the refuge's former headquarters in Fort Walton Beach but also it adds another landmark to the small community, which is also the home for Gulf Coast Kiln Walk/Holley Hills Pottery. "They're both educational," she said.
According to Andersen, suggested donations for the grand opening event entry will be $6 for adults, $5 for military and $4 for children under 12. Children under 2 are free.
"As always, all donations go to support ECWR's missions of rescue, rehabilitation, and release of sick, injured and orphaned wildlife, and conservation education throughout our five-county service area," he said.
The facility will be open to the public from 9 a.m. until 3 p.m. daily. However, Injured, orphaned, or sick native Florida wildlife will be accepted for admission 7 days a week from 8 a.m. to 4 p.m.
For more information about the refuge, visit www.emeraldcoastwildliferefuge.org.