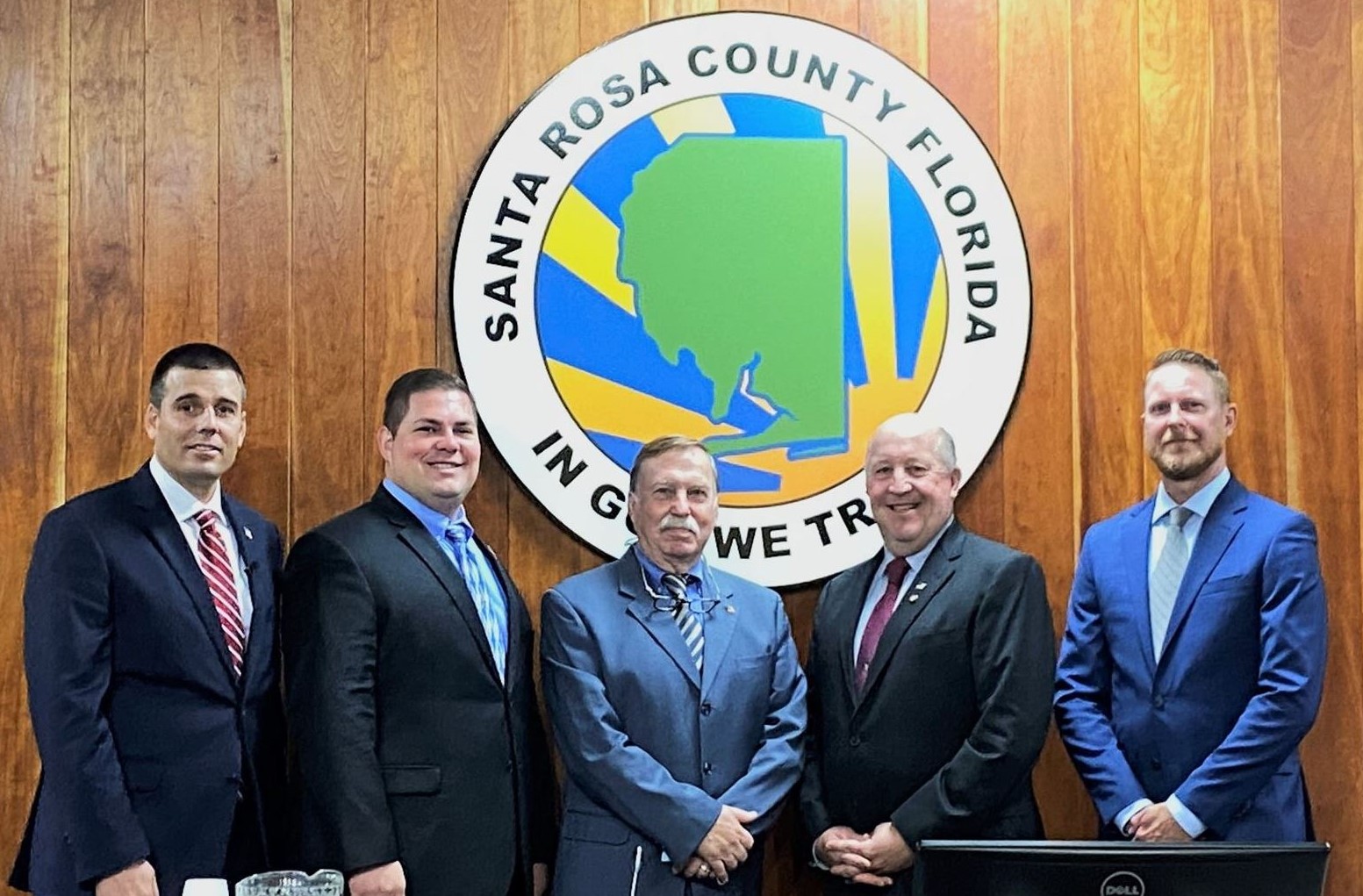 The five men elected to be responsible for Santa Rosa County are District 3 Commissioner James Calkins, District 1 Commissioner Sam Parker, District 2 Commissioner Bob Cole, District 4 Commissioner Dave Piech and District 5 Commissioner Colten Wright.
Don't hold your breath waiting for Santa Rosa County's elected commissioners to hold their $140,000 per year administrator Dan Schebler accountable for staff's failure to submit annual paperwork which generates around $1.4 million per year in state money for road improvements.
Perhaps instead of writing opinion pieces to local newspapers, bragging about how Santa Rosa has "much to celebrate," Schebler should instead be spending more time making sure his staff are completing necessary million-dollar-plus tasks.
Aside from newly elected Commissioner James Calkins, who fights county staff on code enforcement and other issues, don't expect the other four "public servants" to do anything other than to keep doling out praise to their defacto leader, Schebler – despite ongoing and escalating problems during his tenure.
It's no surprise that most of the commissioners don't seem able to muster the courage to confront their hired hand. Since Schebler in 2018 received a contract to run the county, he has created a culture of "yes" men. Wait, we mean women. But hold that thought, we'll circle back…
If you're not "yes" manning Dan, you get ignored or get the axe.
Ask Stephen Furman, former Public Works Director, who was summoned at 4 p.m. on a Thursday last summer to Schebler's office and, after 24 years on the job, fired immediately. Nevermind that Furman says he was being ignored by Schebler, had a budget insufficient to do what needed to be done and was dealing with a lack of inmates to clean out storm water drainage ditches due to COVID-19.
Ask Roger Blaylock, who about a week after Furman was fired also received a summons to Dan's office and soon after announced his early retirement.
Those unplanned departures caused staff morale to hit rock bottom.
Subsequently, Assistant Public Works Director Glenn Bailey and Navarre Beach Utilities Supervisor Terry Wallace decided to leave their jobs. There may have been more job separations stemming from it – we don't know for sure. But what we do know is that within the course of a week or so last summer, Schebler's actions resulted in a the quick departure of decades of experience and institutional knowledge, which he and his staff appear grossly inadequate to fill.
Blaylock was replaced by Rebecca Jones, and Furman was replaced by Amy Tuttle, who apparently failed to turn in the annual road money paperwork.
Boy, it's a good thing she's not a man, else she'd probably be gone, too! We wonder if Schebler will make his assistant Mark Murray take the fall for that one?
Anyway, when Santa Rosa County asks state legislators to increase the population requirement for state road funding in order for the county to continue to qualify, only to have staff fail to submit the paperwork despite reminders from the Florida Department of Transportation, it may well hurt future requests to legislators and future ranking of the county's projects by FDOT.
But, ultimately, even Dan isn't responsible for Waste Pro problems, road funding money losses and all the other screw ups since 2018. It's the five commissioners who were elected to oversee the county.
They have certainly been much more lenient to Schebler than he has been to long-time dedicated staff members…