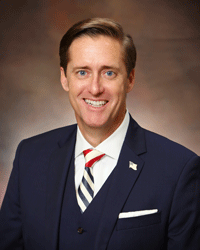 The Navarre Area Board of Realtors® announced today that its board of directors is recommending Santa Rosa County Commissioner Rob Williamson for a second term representing the Greater Navarre Area as the District 4 Commissioner.
NABOR Executive Angela Campbell said the Navarre Area Board of Realtors® "keenly studies" local and county legislative performance.
"A recommendation from NABOR is a powerful tool in any political candidate's arsenal, and not a decision we take lightly," Campbell said, adding, "In the case of Commissioner Williamson, we have been considering our position since his re-election bid was announced earlier this year. Having carefully reviewed the facts and performance to hand, we are confident that we have made an informed decision: In the short time he has been in office, Williamson has kept his campaign promises, sought the community's input, delivered results and continues to move Navarre forward in a positive manner, all the while observing the passion our community has for its heritage, environment and hometown feel," she said.
Campbell said despite Navarre resident David Piech's November 3 entrance into the District 4 commission race, NABOR will continue to support Williamson.
"There are no plans, at this time, to deviate from our current position in support of Commissioner Williamson' re-election bid. We are confident he is the candidate to lead us for the next term."