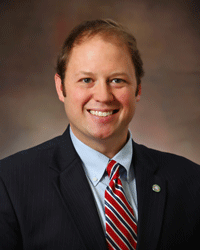 Santa Rosa County District 1 Commissioner Jayer Williamson has resigned from his seat to seek state office.
Williamson made his announcement to run for the Florida House District 3 seat last year but because his oath of office expires six days past the general election date, it was necessary for him to step down earlier than expected.
According to Williamson, state elections officials told him that to continue in his seat through the remainder of his term, the resignation had to be filed 10 days prior to tomorrow's qualification deadline.
'The only way for me to qualify was to resign immediately from the board," Williamson said Thursday morning.
Williamson is facing Navarre resident Huston Walters for the seat vacated by Florida House District 3 Representative Doug Broxson, who is seeking the Florida Senate District 1 seat.
Yesterday Pace resident Caleb Boudreaux qualified as a write-in candidate for Williamson's District 1 seat, forcing a decision in the ongoing race between Republicans Sam Parker and Mark Cotton to be decided in the August primary instead of the November general election.