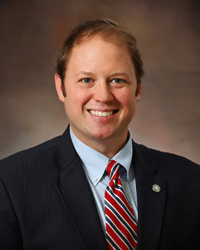 Santa Rosa County Commissioner Jayer Williamson released a statement to friends and supporters stating he will be moving his 2018 Florida House campaign to 2016.
Williamson had originally announced his candidacy for Florida House of Representatives District 3 for the 2018 election cycle in October of last year and has already raised over $55,000.00.
"I had all intentions of waiting until 2018 to seek an open seat for this district," the statement read. "But after the decision by Congressman Jeff Miller created a domino effect in Northwest Florida, I have decided to transfer my 2018 campaign to 2016. Our support has been tremendous for 2018 and with a shorter timeline I expect it to grow even stronger over the next month."
Williamson was appointed by Governor Rick Scott in June 2014 to fulfill a vacancy left by the passing of his father and longtime Santa Rosa County Commissioner, Jim Williamson. Just two days after the appointment, qualifying ended for the special election to fill the final two years of the term. At the end of qualifying no other candidates had signed up to run against Williamson, therefore he was elected without opposition.
Over the course of his term, Jayer has been credited for his common sense style of leadership and has also been praised for his openness and accessibility to the public. He holds monthly "Coffee with the Commissioner" gatherings to take questions from constituents and hosts "District Day" each month where citizens can meet with him and no appointments are needed.
"Accessibility and open government were priorities in my campaign for commissioner," Williamson said. "The only way I know how to best serve my district is by listening to the concerns of others. I vow to do the same as State Representative and look forward to defending the conservative principles important to Northwest Floridians."