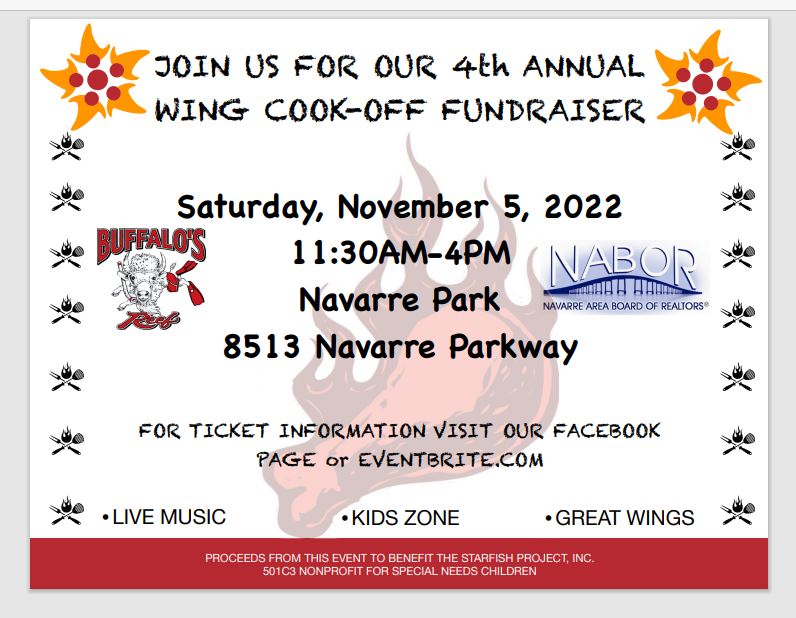 The 4th Annual Wing Cook-off to benefit The Starfish Project, a local nonprofit serving special needs families, will take place from 11: 30 a.m. until 4 p.m., Saturday, November 5 at Navarre Park.
Chefs from around the area will prepare and serve a sampling of their best chicken wings. The event will also feature live music and a kids zone.
Sponsors are being sought for the event. Interested potential sponsors can contact the organization via thestarfishprojectinc@gmail.com for details.
Tickets are now available for the public via Eventbrite.com. Cost is $5 for admission to the kids' zone only (with no wings), providing access to games and activities and a frozen treat. Cost is $15 plus a $2.55 fee for general admission, which includes one chicken wing from each vendor (15 wings total) and three People's Choice" tokens to cast a vote for the top 3 competitors.
The mission of The Starfish Project NWFL is to improve the lives of special needs children and their families by integrating the highest-quality knowledge, services, and technology. Learn more: http://www.thestarfishprojectnwfl.org/