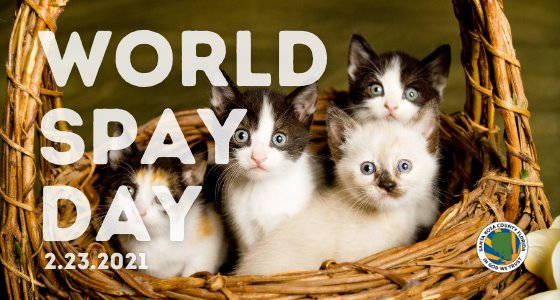 Santa Rosa County Animal Services would like to remind the community on the importance of spaying and neutering pets this World Spay Day. Altering pets has numerous benefits, such as limiting over-population, reducing unwanted behaviors and lowering the risk of cancer and other illnesses.
Each year, the shelter sees hundreds of pets due to over-population in the surrounding area. As kitten season approaches, we encourage pet owners to alter their animals, as well as community cats to prevent unwanted litters from entering the shelter.

Kitten Season
Kitten season is the time of year when more kittens are born, usually lasting from April to October. Each season, numerous litters of stray kittens are brought to the shelter. Most people assume the young kittens they find are orphaned, but the mother is likely out hunting for food. Kittens have a significantly greater chance for survival with their mothers; the shelter is not equipped to provide the necessary round-the-clock care. For more information on what to do if kittens are found, visit the shelter's Found Kittens page.
Foster Program
Shelter pets cannot be adopted until they are at least eight weeks of age and healthy, so the shelter depends on the foster program to care for these young kittens. Kittens require hourly bottle-feeding, along with frequent veterinary appointments and constant attention, so foster parents are few and far between. Many foster parents care for several litters at a time throughout the season. The shelter is always in need of foster families to care for young, sick or injured animals. For more information on fostering, visit the Foster Program page.
Health Benefits of Spaying and Neutering Pets
Altering pets not only prevents unwanted litters, but also reduces unwanted behaviors and lowers the risk of illnesses. Spayed females won't go into heat, eliminating howling and urination in the house. Spaying also helps prevent uterine infections and breast tumors. Neutered males will be less likely to roam for females. Early neutering can also eliminate spraying, marking and aggressive behaviors while preventing testicular cancer and other prostate problems. The upfront cost of altering a pet may seem expensive, but it lowers the potential for costly treatment of cancers and illnesses down the road.
Medical Team
All pets adopted from the shelter are spayed or neutered before leaving. This eliminates the potential for shelter pets to repopulate and increases the overall lifesaving efforts. A full team of veterinarians and medical staff perform 20-30 spay and neuter surgeries each day. The new medical suite, fully equipped with medication and equipment, allows for on-site procedures, as well as other necessary lifesaving surgeries.
Trap-Neuter-Release (TNR)
The TNR program provides spay/neuter surgeries to community cats. This prevents feral cats from reproducing, without permanently displacing them. Residents can spay/neuter up to three community cats at no cost. Residents are responsible for trapping the cat, transporting them to their surgery and releasing them back to their home. Community cats will also receive an ear tip as indication of their surgery. To register for the TNR program, contact the shelter at 850-983-4680.
For more information on Santa Rosa County Animal Services, its programs or education on spay/neuter, visit www.santarosa.fl.gov/animals