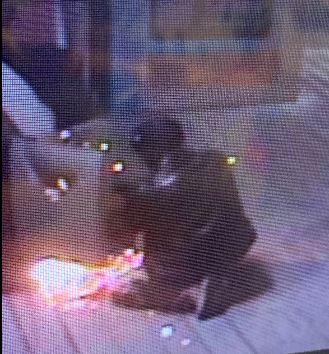 The Okaloosa County Sheriff's Office is working to track down two men who tried to use a blow torch to get into an ATM machine on the second floor of the Boardwalk on Okaloosa Island. But instead the hinges were actually welded shut, according to OCSO.
A worker who came to service the machine the next morning found burn marks on the hinges and locks.
Video surveillance shows two white male suspects with their faces covered entering the upstairs around 3:15 a.m. on May 31.
One had on a black half nose mask with black sunglasses, a black leather style jacket, camo pants, desert tan military style boots, and black gloves, per OCSO.
Cops say the other suspect wore a tan toboggan style hat, scarf around his face, a black long sleeve Under Armour shirt, black gloves, black shorts, and white tube socks with multiple colored stripes. He was seen with a crow bar and appeared to serve as the lookout.
Instead of cutting the ATM with the blow torch, the would-be thief welded the metal parts shut and the pair left with nothing.
Anyone with information on the bungled blow torch burglary is asked to contact the Okaloosa County Sheriff's Office at 850-651-7400 or Emerald Coast Crime Stoppers at 850-863-TIPS or EmeraldCoastCrimeStoppers.com.