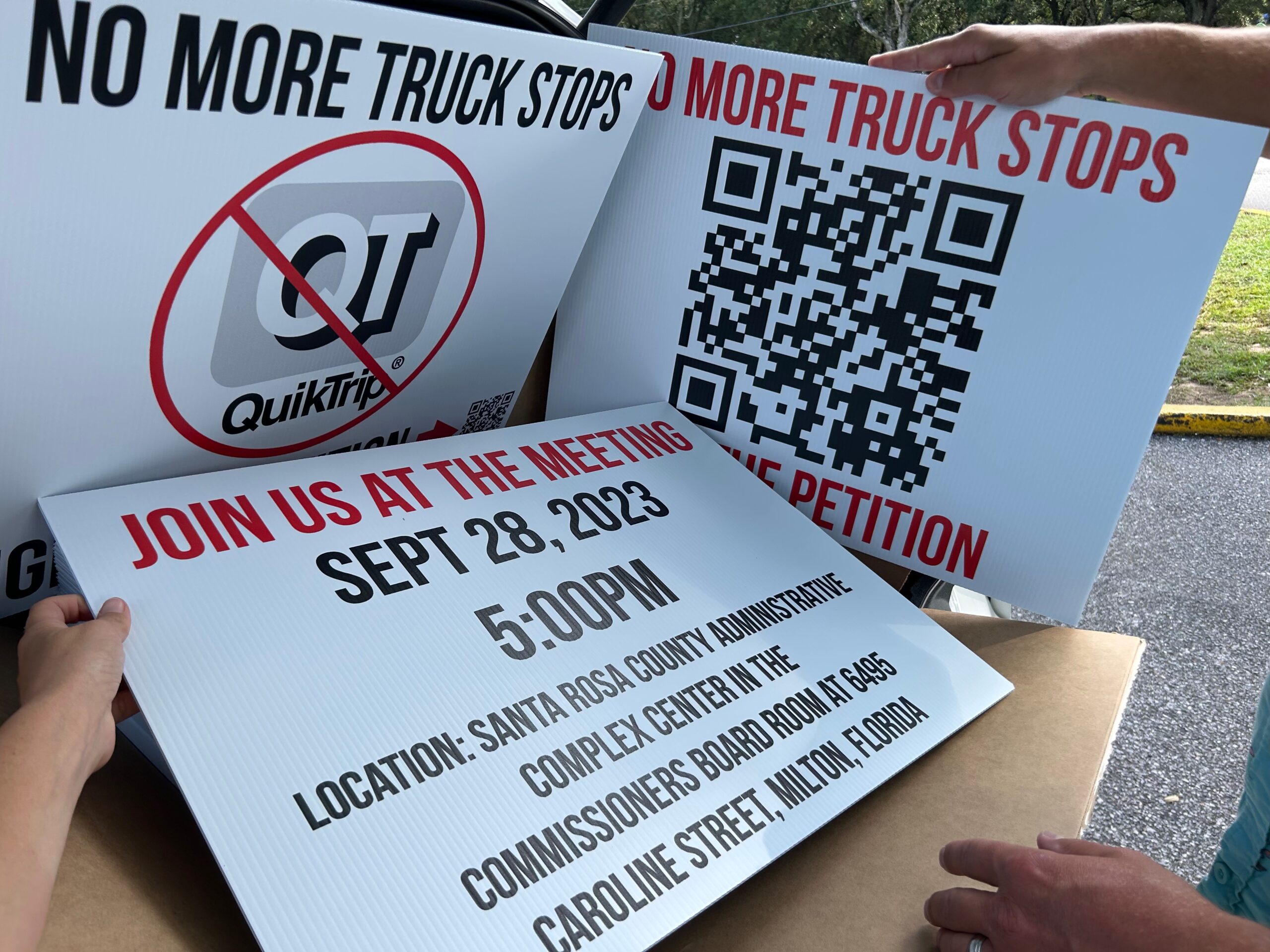 Bagdad residents have mounted opposition to the proposed zoning change, starting an online petition and other efforts to stop it
The Santa Rosa County Zoning Board on September 14 denied recommending a proposed rezoning for a future truck stop on Garcon Point Road. County Commissioners on September 28 will make a final decision on the request.
The 5.5-acre parcel, is located on Henzelman Drive at Garcon Point Road, near the Interstate 10 Bagdad exit. Property owners David and Judy Tolbert are seeking a zoning change from Rural Residential Single Family to Highway Commercial Development to facilitate future construction of a QuickTrip truck stop.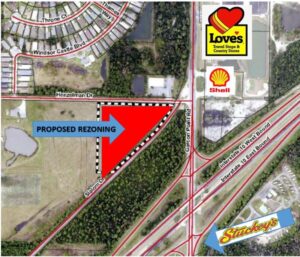 Zoning Board members Gage Holland, Alan Isaacson, Joe McConnell and Derrick Sammons opposed the recommendation, resulting in a 4-4 vote. Accordingly, a recommendation was denied. However, the zoning board is only an advisory council with no decision-making authority. Therefore, the Santa Rosa County Commissioners will consider the issue during their September 28 rezoning meeting.
Nearby residents have mounted opposition to the rezoning request. The neighborhoods of Ski Watch, Windsor Villas, Sundial, and the Village of Bagdad have been reaching out to county commissioners, asking them to deny the change. An online petition named "No More Truck Stops or Gas Stations on Exit 26" has also been started at change.org: LINK TO PETITION AGAINST REZONING
Some residents have expressed concern that sewer access is not available for the site, which would utilize a septic tank.
Windsor Villa Residents Dianne and James Garner in a September 5 email to Santa Rosa County stated they oppose the rezoning. "Too much congestion now. We don't need (another) gas station in such a small area."
Haley Hamaker, president of Ski Watch Estates Homeowners Association, in a letter to commissioners stated the Loves Truck Stop, which opened in 2021, "has only had a negative effect on all of the local residents and the area." Hamaker says Garcon Point Road has become "dangerous" and there has been an increase in crime, litter, and noise and light pollution and a decrease in property values. "I understand that we cannot stop new developments around us. A truck stop is not the answer…This would make four gas stations, three of which are truck stops, in less than a mile of roadway surrounded by over 400 homes."
Citizens wishing the contact commissioners about the rezoning may call 850-983-1877 or email the board via district1@santarosa.fl.gov, district2@santarosa.fl.gov, district3@santarosa.fl.gov, district4@santarosa.fl.gov and district5@santarosa.fl.gov.
The rezoning meeting is scheduled for 5 p.m., Thursday, September 28 at the County Administrative Complex, located at 6495 Caroline Street in Milton. The meeting will also be streamed live and available for replay via http://santarosa.fl.gov.