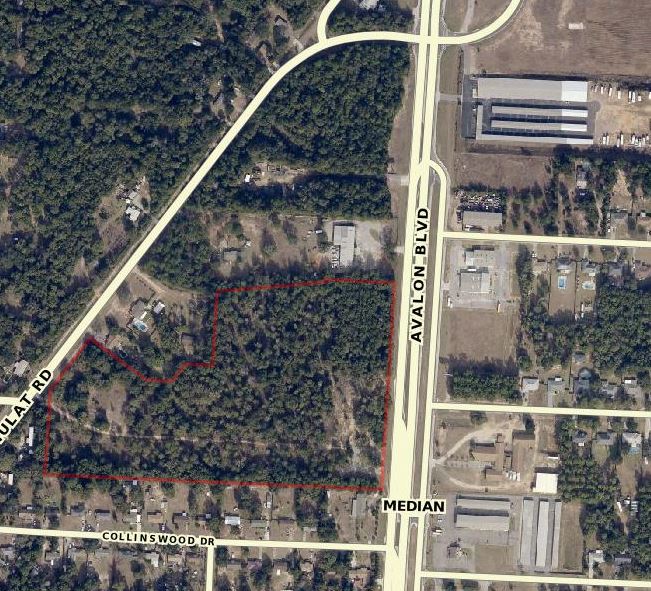 Santa Rosa County Commissioners were divided on spending $850,000 for this roughly 19-acre parcel on Avalon Boulevard. which has a certified value of $498,219. Commissioners Rob Williamson and Lane Lynchard opposed buying the property for the site of a future courthouse, but they were outvoted by Commissioners Bob Cole, Sam Parker and Don Salter. Property owners JDL of Santa Rosa, LLC purchased the land in December 2012 for $550,000.
Santa Rosa County Commissioners on Monday decided not to pursue a $148,000 special election for voters to decide whether or not to approve an additional half cent sales tax to fund a new county courthouse.
The board instead took steps toward gathering more information about the estimated $30 million plus project and waiting to present the matter to voters on the August 28, 2018 primary ballot.
Additionally, commissioners seemed divided on including a proposed roughly $4 million jail expansion as part of the ballot initiative.
"I'm all for combining the projects," said District 2 Commissioner Bob Cole, who noted that he preferred not to hold a special election to save the additional costs which would be incurred.
Commission Chairman Rob Williamson said he could not support adding the jail expansion to the courthouse referendum at this time, pointing out it might be possible to fund that project through the new half cent local option sales tax voters approved last fall.
Santa Rosa County Sheriff Bob Johnson on Monday told South Santa Rosa News that District 1 Commissioner Sam Parker had approached him about including the jail expansion as part of the courthouse tax, which could be deemed a "justice" tax.
According to Johnson, Santa Rosa County Jail currently has 682 beds and houses between 60 and 90 federal prisoners each day, and the county receives $58 per day for each federal inmate.
Although revenue figures for housing federal inmates this year would top $1 million, Johnson did not immediately know the associated total expenses.
"It could be a wash," Tony Gomillion, county administrator told the board Monday.
However, Johnson said even if the county stops housing federal inmates, the rising county population would contribute toward filling up the jail and that the need for an 128-bed expansion is "inevitable."
So commissioners on Thursday are expected to also direct staff to gather more financial information related to housing inmates and the proposed jail expansion.
During Monday's meeting Williamson also reiterated that he did not agree with the board's vote to offer JDL of Santa Rosa, LLC $850,000 for a 19.23-acre parcel on Avalon Boulevard as the site of a future courthouse.
JDL of Santa Rosa purchased that property for $550,000 in December 2012, and the 2017 preliminary market value of the parcel is $635,510 – up from its certified 2016 value of $498,210, according to the Santa Rosa County Property Appraiser's Office.
Both Williamson and Commissioner Lane Lynchard last month opposed the buying the property, but Parker and Commissioners Don Salter and Bob Cole outvoted them.
"I'm not going to actively undermine the effort…but I don't I don't agree with it. I don't think it's a good decision. That's a very vital piece of commercial property, good frontage," Williamson said.
Sheriff Johnson said that unlike his predecessor, he would not have opposed the county building a new courthouse on county-owned land adjacent to Santa Rosa County Jail if there was enough land for the project.
Click here to read more: County owns more than 1,500 acres in East Milton