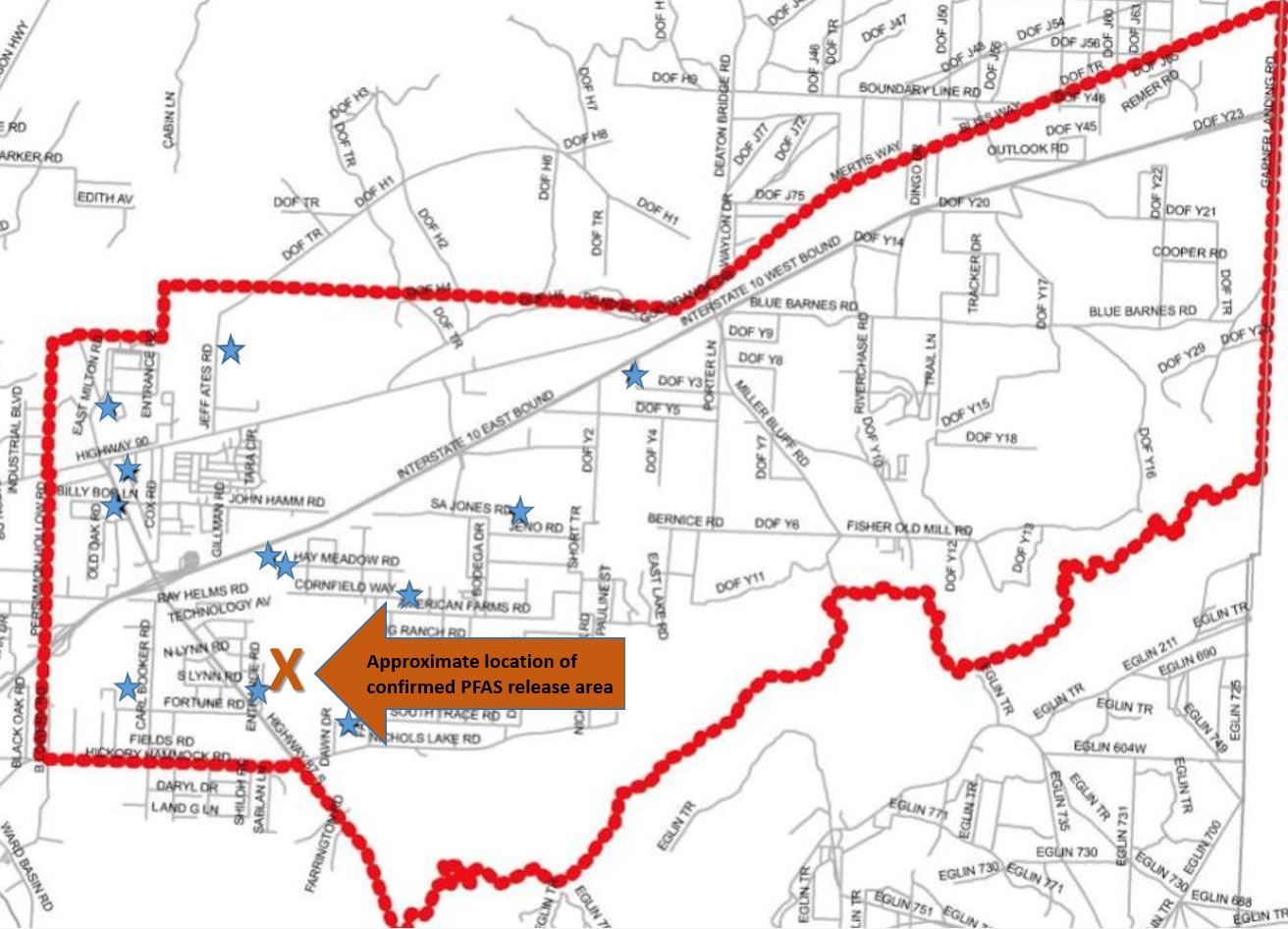 The U.S. Navy on November 9 issued a press release, confirming a PFAS release area at OLF Santa Rosa, which is located inside Santa Rosa County's Well Field Protection Area in East Milton. The PFAS release area, depicted by an "X," is close to Fairpoint Regional Utility System water wells, which are depicted by blue stars. A link to our original story on the issue is at the bottom of this update.
Fairpoint Regional Utility System, Inc. (FRUS) just announced the findings of a comprehensive third-party study conducted on the presence of per- and polyfluoroalkyl substances, or PFAS, in untreated water samplings. This data includes information on the overall health of the water supply and demonstrates the safety of untreated raw water in its wells. Collection of this data represents an important step in better understanding and ultimately reducing PFAS and the potential risks associated with these chemicals says the utility.
Per FRUS: the analytical results for the wells sampled identified no perfluorooctanoic (PFOA) or perfluorooctanesulfonate (PFOS) at concentrations that exceed the United States Environmental Protection Agency's (U.S. EPA's) drinking water Lifetime Health Advisory Level (HAL) of 70 ug/L. The combined PFOS and PFOA ranged from 4.01 to 5.84 ug/L, again far below the HAL of 70 ug/L.
Several PFAS compounds were detected at low concentrations in samples from multiple wells, but these compounds do not currently have an HAL. After the water supply has been tested three times, the field blank samples had no detections above the method detection limit, said FRUS.
"By investing in this outside study, FRUS continues to demonstrate their commitment to proactively addressing the issue of PFAS in the water supply. We have always made public safety and environment our top priority and this study illustrates just one way that we are taking every measure to better protect our community from pollution," stated FRUS Executive Director Dr. Dallas Peavey. "Our commitment continues to be on tackling PFAS through sound data and an improved understanding of these complex chemicals."
ORIGINAL STORY: https://ssrnews.com/pfas-release-confirmed-within-well-field-protection-area/