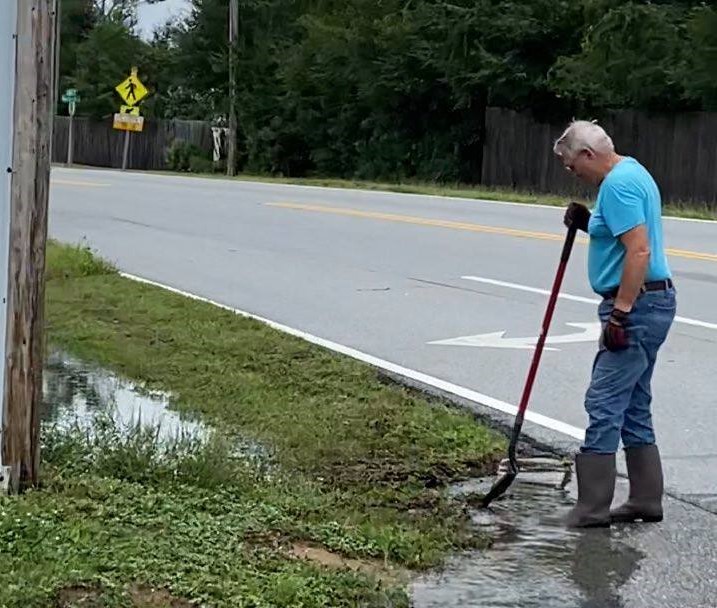 Jack Russell, president of Spanish Trace Estates Homeowners Association, used a shovel to clean out overgrown storm water drainage ditches to alleviate flooding last week in his subdivision. Photo by Romi White.
After recent widespread flooding problems and a failure to apply for critical state road funding earlier this year, it came as no surprise when Santa Rosa County Public Works Director Amy Tootle submitted her resignation today.
The resignation took place this morning, ahead of a scheduled discussion about storm water problems during this afternoon's county commission meeting.
Tootle had been named Public Works Director in the aftermath of drastic staffing changes made last year by former County Administrator Dan Schebler, who resigned July 13, following intense public criticism, stemming from his 2020 overhaul, which resulted in the departure of multiple longtime staff.
Following Schebler's own departure, conflict died down during commission meetings under the leadership of longtime county employee and Interim County Administrator DeVann Cook.
However, public outcry has ticked up again, following recent flooding problems throughout the county, some of which have been blamed on Public Works' failure to adequately maintain storm water ditches and retention ponds.
Per Santa Rosa County, Tootle's resignation is effective November 2. During the October 12 board meeting it was announced that Tootle had accepted a new position.