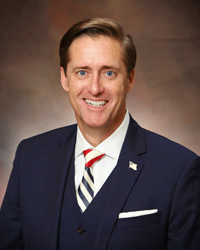 Santa Rosa Commissioners will once again address the downtown courthouse location question at Monday's Commission Committee meeting.
Navarre district Commissioner Rob Williamson asked the Board to consider a brand new option:  a swath of land on Pine St. between Willing and Escambia St.
Williamson provided a drawing that details a proposed three-story, 35,000 to 155,000 square foot facility in a letter to County Administrator Hunter Walker requesting the item be placed on Monday's agenda.
His plan includes a one to three story parking garage adjacent to the proposed new center with capacity for 170 to 300 park spots.
The site "delivers a complete judicial complex to consolidate services," and frees up "centrally located parcels of downtown that would no longer be required for any county judicial related services," Williamson said in the letter.
He added that the Pine St. location would free up 12,000 sq. ft. of office space in the Fisher Hamilton building; which currently houses the Public Defender's Office; and space in the Santa Rosa County Administrative complex.  The Clerk of Courts currently uses offices in the County Administrative building.
Williamson notes the County already owns the land proposed for the new site, and says his plan provides room for future growth.
A new three to five story judicial center will need 358-388 park spots, per a May 2015 analysis by County consultants HoK and Hatch Mott McDonald.  The City of Milton currently has 256 spaces downtown, the study said.
The May analysis was based on a facility of less than 156,000 square feet; for which the State Attorney, Public Defender and Guardian ad Litem would remain in their current offices.
Commissioner Bob Cole, whose district the Courthouse falls into, says the Pine St. location raises the same problems as the current site, and adds railroad noise and safety issues.  Cole points to a recent train derailment in East Milton that required an evacuation, and notes any downtown location may require expensive pump and cistern drainage.
"I just don't feel like putting it close to railroad tracks and wetlands is a smart investment we as a County should be spending $30 million dollars on," he remarked.
Cole predicts a future Sound End need for a separate judicial facility.
"We need to have a vision for the whole county, not just a handful of special interest people that are concerned about their property values downtown," he said.  "And that's who's driving efforts to keep it downtown…it's a vocal few advocating downtown for their own personal interest.  It certainly isn't the economic driver for downtown – if so it would be in good shape today because the court house is there today."
Growth has changed the population centers of the county, Cole points out.  He said he supports finding an alternative City of Milton location with room to fully consolidate all judicial functions and expand with future growth.
"We're trying to shoehorn this thing downtown when we have room in other areas of the county to do it and do a good job," Cole noted.
Also on Monday's Committee agenda, the Board will discuss:
*A $300,000 grant to buy "buffer" space around Whiting Field.  Buffer space, in the past, has included "development rights," but not necessarily land title.
*Leasing 18 acres in the Industrial Park for $525.06 per month, over three years, to PowerSecure, Inc.  The company will use the land for lineman training.  They requested the County build them a fence across the land to tie into an existing fence.
*Three finalists for the County Administrator position.  Commissioners interviewed the candidates on Wednesday.
*Purchasing new playground equipment for the Santa Rosa Sportsplex, Holley Ball Park and Benny Russel Park.
*Permitting a mobile medical clinic, November 12 and 13, at Milton High or Central High.  The clinic provides general medical, dental, vision, preventative care and education, and expects between 1,600 and 2,400 patients during the visit.  Follow up care will be coordinated with Santa Rosa Community Clinic and the County Health Department.
*Renewing Tallahassee lobbyist Johnson & Blanton's contract, at $60,000 per year.