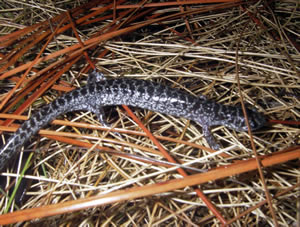 The Florida Department of Transportation in October hosted two public meetings in Navarre, seeking input on possible alternatives for U.S. 98, prompting some locals to once again suggest construction of a bypass road on Eglin Air Force base property.
So when Mike Spaits, Chief of Community Engagement for Eglin Air Force Base, was offered an opportunity to make a presentation at the November 8 Navarre Area Board of Realtors' monthly luncheon, he wanted to make potential newcomers aware of issues which have previously precluded an Eglin bypass as a viable alternative.
"After reading the Facebook comments regarding the recent FDOT plans for Hwy. 98 in Navarre, I noticed multiple comments asking why FDOT couldn't put a bypass road on Eglin property. Clearly, the commenters must be relatively new because that proposal had been analyzed and dropped years ago and was covered extensively (in the media)," Spaits told South Santa Rosa News.
Spaits also asked Justin Johnson, chief of Eglin's Wildlife Division, to put together a presentation for the luncheon about work which has been done to aid in the recovery of some endangered species.
"I asked him to include the reticulated flatwoods salamander so we could explain to any new realtors that the issue regarding any bypass on Eglin property through wetlands had been resolved years ago, and there is no proposal for any bypass now – just the plans that FDOT shared in their public meetings," said Spaits.
According to Spaits, such a bypass north of U.S. 98 on Eglin property would not only interfere with critical military missions but also impact sensitive, protected species.
"We have an issue with some of our mission conflicts. We really can't give up that much land," Spaits said before introducing Johnson.
Johnson went on to provide details about efforts to protect more than 106 rare plant and animal species living on the base's 464,000 acres, including federally listed species, such as the endangered reticulated flatwoods salamander.
According to the Florida Fish and Wildlife Commission, the reticulated flatwoods salamander is only found in Northwest Florida west of the Apalachicola River, and its main threat is loss of habitat.
Per FWC, the reticulated flatwoods salamander inhabits slash and longleaf pine flatwoods which have a wiregrass floor and scattered wetlands, and continued loss of habitat could cause "extensive" population loss.
"The U.S. Fish and Wildlife Service regulates us and would probably stop (a bypass) before it begins," Spaits said, pointing out such a roadway would probably have to be elevated.