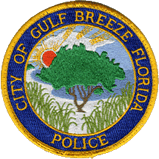 Tuesday, March 14
Gulf Breeze Police arrested a 53-year-old Texas man who had an outstanding warrant. The man, Michael E. Brown, 53, of Lufkin, Texas, was transported to Santa Rosa County Jail following the finding.
Wednesday, March 15
A Tampa man was slapped with a DUI charge during a traffic stop last Wednesday. The man, Troy Milletary, 22, was transported to jail after the stop.
Thursday, March 16
A Pensacola man was pulled over by Gulf Breeze Police and hit with several drug charges. The suspect, Donovan Brown, 35, of Pensacola was subsequently arrested and charged with Possession of Methamphetamine and Possession of Drug Paraphernalia.
Also on Thursday, an Alabama man and a Gulf Breeze man were hit with DUI charges. Jerry S. Bradford, 50, of Eight Mile, Alabama was slapped with a DUI charge when he was pulled over. Also, Andrew Brunt, 63, of Gulf Breeze was hit with a DUI during a separate traffic stop.
Friday, March 17
A Pensacola man was arrested for DUI after police conducted a traffic stop on him as he was traveling through Gulf Breeze Proper. The man, William E. Patrick, 29, was arrested for the DUI without incident.
Saturday, March 18
A Louisiana man was hit with felony drug charged after police pulled him over and found drugs on his person. The suspect, Rashad Boatner, 24, of Lacombe, Louisiana, was charged with Possession of Cocaine With Intent to Distribute, Possession of a Controlled Substance Without a Prescription, Possession of Cocaine, Possession of Marijuana (Under 20 Grams) and Possession of Drug Paraphernalia. He remains behind bars at Santa Rosa County Jail as of press time with a $31,500 bond.
Sunday, March 19
A Pensacola man was slapped with a Hit and Run charge after Gulf Breeze Police found the man was involved in an accident and attempted to flee the scene. The man, 31-year-old Timothy DePaulis, was ultimately charged with Leaving the Scene of a Crash With Property Damage.
Also on Sunday, a Navarre man was slapped with a theft charge after police say he stole a bicycle. The man, James Dismore, 29, was put behind bars following his arrest.
Monday, March 20
A Pensacola man was found with narcotics on his person on Monday. The suspect, Tra Patterson, 20, was charged with being in possession of the narcotics and was given a Notice to Appear.