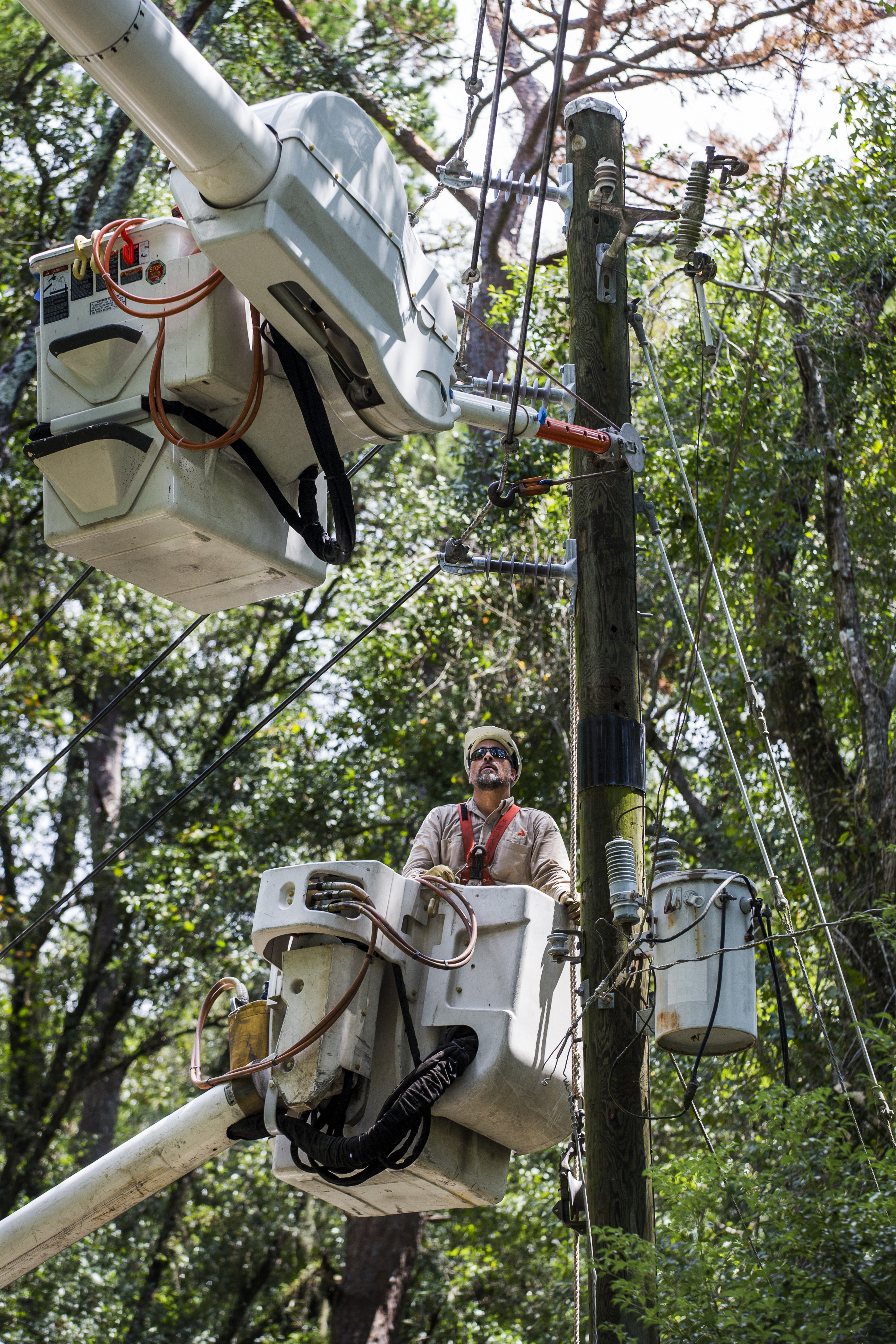 Gulf Power is monitoring Hurricane Irma and evaluating its potential impact on Northwest Florida.
Based on current forecasts, the energy provider predicts that approximately 20,000 customers in Northwest Florida may lose power as a result of severe winds — with the majority of the outages occurring in and around the Bay County area.
As the storm continues to move and shift, that number may change. Customers in the hardest hit areas should prepare to be without power for, possibly, up to two days.
"Irma has the potential to cause significant outages in Gulf Power's service footprint, especially in the Bay County area," said Rick DelaHaya, Gulf Power spokesperson. "Crews are already responding to smaller outages caused by feeder bands from the storm in Panama City, and are ready for severe winds as well."
Gulf Power line crews will work as quickly and safely as possible to restore power. However, there's a point where it is no longer safe for crews to work.
"Due to the predicted winds, there may be a time when our crews have to hunker down and wait out the storm," added DelaHaya. "Winds must be below 35 mph for crews to safely begin restoring power and they will resume restoration when we can safely get our trucks back on the road."
Delahaya added that Gulf Power will be bringing additional lineworkers from the western end of their service area to ensure there are enough resources to get the lights back on quickly and safely, and then the plan is to deploy crews to help in other affected areas in the Southeast that are predicted to have major to catastrophic damage.
"Restoring power to our Gulf Power customers will be our priority. After we take care of everyone right here at home, we are prepared to send more than 100 personnel to assist with power grid rebuilding and restoration in the southeast," said DelaHaya. "But our priority is to restore our customers' power, and we will work day and night until everyone's lights are back on."
Along with crew and team member preparedness, Gulf Power has also invested more than $225 million in storm hardening projects across the region. With recent and ongoing storm hardening, substation upgrades and upgrading infrastructure using the latest technologies to reduce power outages, Gulf Power customers are experiencing fewer outages than in any time in recent history. In fact, investments in the power grid have improved reliability for the utility's more than 460,000 customers.
Safety tips
• Treat any downed wire as if it is energized because you can't tell by looking if a downed wire is live or not. Telephone or cable television wires that are touching a power line could become energized and should also be avoided. Call 911 to report the location of any downed lines.
• Don't attempt to repair the electrical system or pull tree limbs off lines. Let Gulf Power crews perform this potentially dangerous work.
• Stay clear of areas where there is a lot of debris or downed trees because they could conceal an energized power line. Also stay clear of chain link fences which may be energized if touching a downed line.
• If you have an electric generator, please ensure that you have isolated your home or business from the utility electrical service lines by opening main breakers or other devices. Do not connect portable generators to your household electrical wiring. This can cause serious injury to you and to our crews working on the lines in your neighborhood. Connect only essential appliances – such as freezers and refrigerators — directly to the generator.
• If your power is off, turn off large appliances and air conditioners and wait 10 to 15 minutes after power has been restored before turning them back on.
• If there is damage to your meter box or the pole on top of your meter box, you must first have an electrician make repairs before we can restore your service.
• If there is flooding in your home or business, we may be unable to restore electric service until the building is inspected by city or county code officials.
• Stay away from areas where our crews are working. If driving, follow road signs, drive cautiously and follow directions in the area of a work crew.
• Please be patient. Our crews will work as fast as safety allows. Before neighborhood lines can be worked on, our crews must first repair larger lines that bring power to neighborhoods.
· See more storm tips here.
Customers can get more detailed storm information on the Gulf Power Storm Ready Center webpage.
How customers can connect with us:
• To get the latest updates on outages, customers can download Gulf Power's app and access the outage map for the latest restoration information. The app is free and available for iPhone and Android. Just search for "Gulf Power" in iTunes or the Google Play Store.

• Customers can follow Gulf Power updates on Facebook or Twitter:
http://www.facebook.com/gulfpowercompany or http://www.twitter.com/gulfpower.
• Sign up for free PowerOut alerts through your cell phone by texting REG to MyGulf (694853). Or, visit the Preference Center in the My Account area of MyGulfPower.com to choose whether to receive texts, emails or phone calls with outage updates.

• Gulf Power knows when your power is out. However, you can call 1-800-487-6937 if you have any questions about your outage.