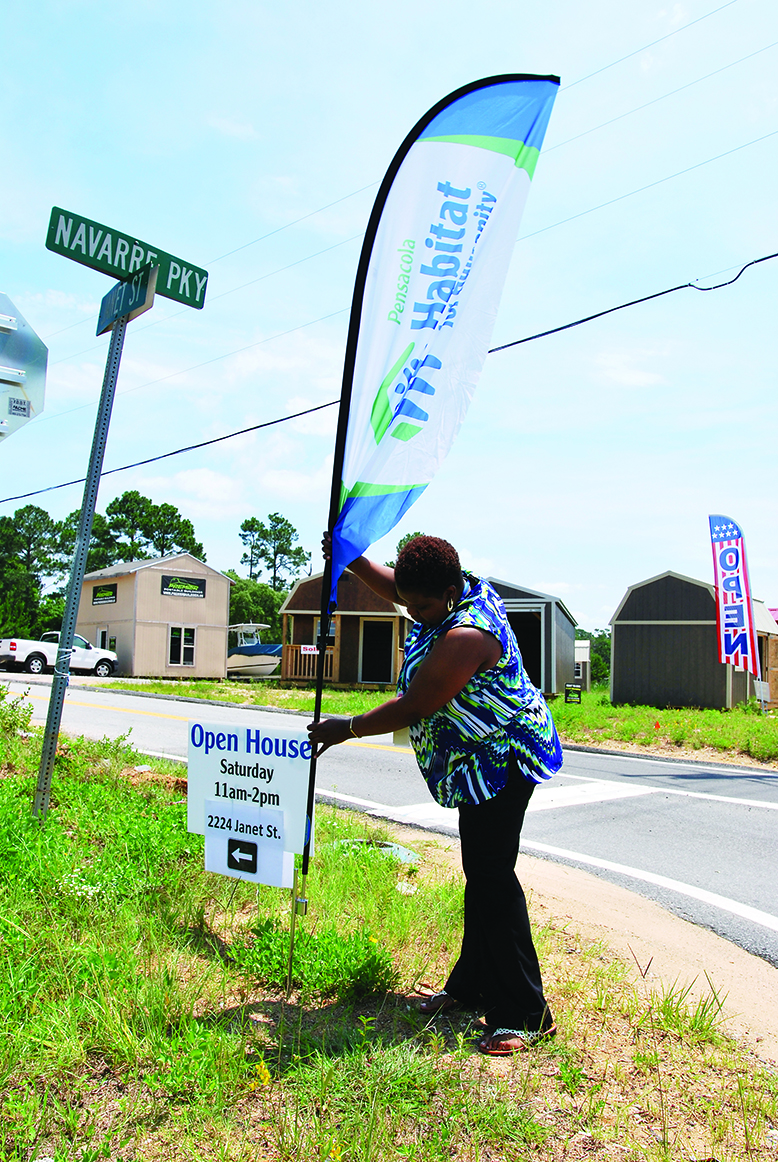 For many, owning a home is a dream, especially along the Gulf Coast. But that dream comes at high price as the cost of living and the cost of property continues to rise locally.
Then along comes Habitat for Humanity.
Pensacola Habitat for Humanity has been helping families along the Gulf Coast live the American Dream, and they gave county residents a sneak peek at what they have to offer last Saturday in Navarre at an open house on Janet Street.
"We've realized in the last couple of years that there is a need in the community to have work force housing," said Pensacola Habitat for Humanity Director of Corporate and Community Relations Sue Evans. "We need to make sure we fill that need for our community."
Pensacola Habitat for Humanity has expanded their HomeBuyer Program recently by allowing people who earn up to 80 percent of the Area Median Income (AMI) to participate in the home buying program. For a family of four, this means they may earn up to $47,700 annually and still be eligible for participation in the HomeBuyer Program.
Sue said that the shift in their program has allowed Habitat to focus on building homes for people who want to live in the south end of Santa Rosa County who have jobs in the area, but may not make enough to afford a house payment. Sue said a house payment on a Habitat home varies from about $450 to $600 a month, depending on the applicant. And the loan on the home comes interest free.
"We're trying to reach that hard working group that may just not make enough to afford a higher-end home," Sue said.
Sue said Habitat has also ramped up its homes by including crown molding and recessed lighting to attract more applicants along the Gulf Coast to their homes.
"We realized that buyers these days want better featured in their homes so we've re-looked at our homes and materials..and we've upgraded some of the design elements," Sue said.
Some of those design elements were featured at a home on Janet Street last Saturday, where interested applicants were able to view one of two Habitat homes on the street.
"All of our new homes are rated for maximum energy efficiency, incorporate new attractive architectural designs for greater curb appeal, and include two, three, or four bedroom/two bath floorplans, depending on the family's need," said Pensacola Habitat for Humanity Executive Director Tim Evans.
Tim said even though Habitat has somewhat shifted their focus, their vision has remained the same over the years.
"We found in the past that people in south Santa Rosa didn't consider a Habitat home because we weren't building in areas where they wanted to live," Tim said. "We have changed the process of where we are buying property—like Midway or Navarre."
Habitat is planning another open house on July 9 on Janet Street in Navarre. The open house will take place from 11 a.m. to 2 p.m. at 2224 Janet Street.
"If you haven't seen a Habitat home in the last few years, then you are missing out!" Tim said. "We have been listening to suggestions from the public. Our primary focus is to show that Habitat homeownership is a great way for a family to purchase a high quality home and stay within budget."
For more information and to learn how to apply for the HomeBuyer Program, call Pensacola Habitat for Humanity at (850) 912-6021.