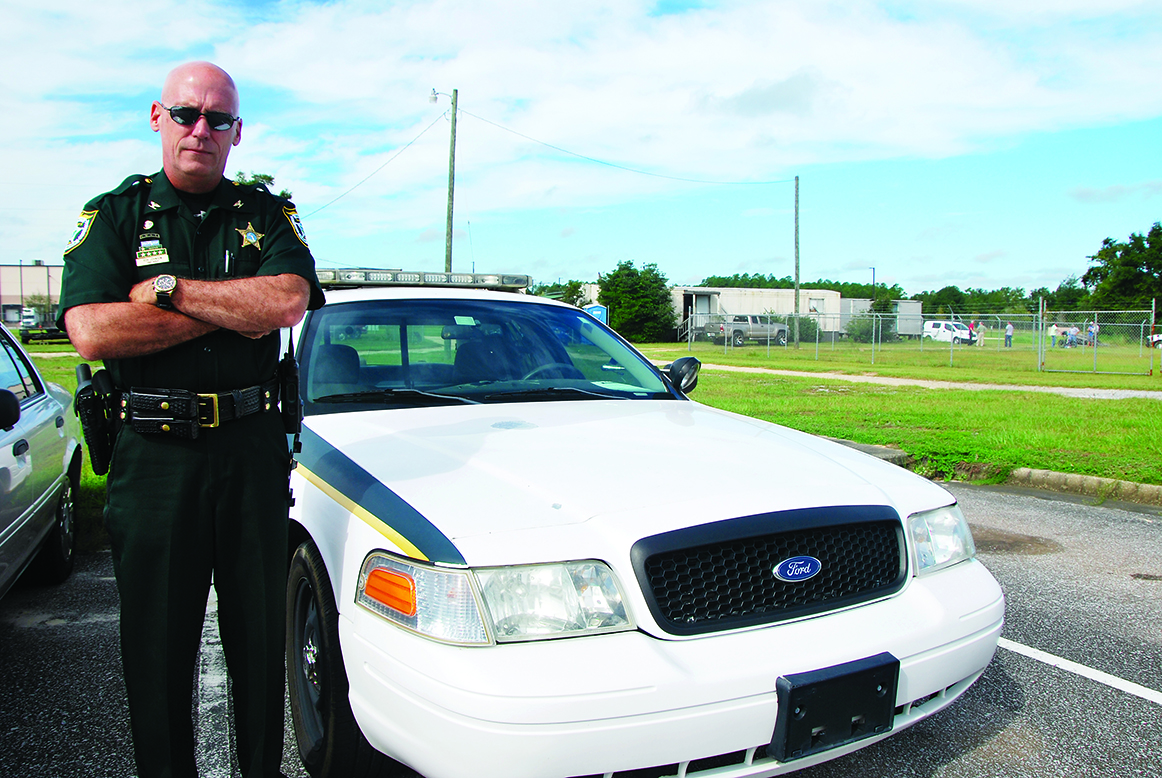 Santa Rosa County Sheriff's Office Chief Deputy Bob Johnson took a huge step toward becoming the county's top cop when he won the Aug. 30 primary election.
Voters that day also approved a half-penny sales tax for public safety and infrastructure, which could generate $35 million over a five-year period starting Jan. 1.
Part of that revenue could be utilized to make capital purchases or facility improvements for the county's law enforcement agency.
"Our biggest capital need currently is our aging vehicle fleet," Johnson said last Thursday.
Additionally, another winner in the primary, Sam Parker, may become the newest face on the County Commission.
And Parker, a former law enforcement officer who received a Purple Heart after being injured in the line of duty, has
vowed to be a strong advocate for law enforcement.
So it's possible Johnson may also have more support than Hall had from the commission to address raising the base salary for Santa Rosa deputies in an effort to compete with other agencies and retain officers.
Local Primary results
Johnson, who had the endorsement of current Sheriff Wendell Hall, took 57 percent of the vote, beating fellow Republican challengers Chris Roper, who received 24 percent, and Robby Way, who received 19 percent.
Johnson and his family are taking a few days off to go to Orlando and unwind, following the primary campaign. Now he just has to defeat write-in candidate Chuck Miller in the Nov. 8 general election to win the race.
Parker defeated Mark Cotton by a 20-point margin and will face write-in candidate Caleb Boudreaux.
Incumbent District 3 Commissioner Don Salter beat challenger Marvin Fowler by 22 percent and faces Aubrey Penton, NPA.
Stan Colie Nichols won re-election as Santa Rosa County Tax Collector by a landslide 80-20 margin.
"I feel last night's victory is confirmation that customer services and fiscal responsibility are what matters most to Santa Rosa County citizens. As we move forward, we will not be satisfied with accomplishments of the past but will continue to seek innovative ways to deliver the very best service," Nichols said.
In other local races, Buddy Hinote, a longtime Santa Rosa County District Schools administrator, defeated former teacher Joe Pool by a 57-43 margin to become the District 2 School Board Member.
State Primary results
Jayer Williamson defeated Huston Walters by a 66-34 margin to win the Florida House District 3 seat vacated by Rep. Doug Broxson, who won the primary for the Florida Senate District 1 seat.
Broxson defeated Rep. Mike Hill by a double-digit lead in Santa Rosa, Okaloosa and Walton Counties and will face two write-in candidates in the general election.
Former Senate District 1 Senator Greg Evers lost his bid for the U.S. Congressional District 1 seat after Rep. Matt Gaetz won Tuesday's primary. Gaetz will face Democrat Steven Specht Nov. 8.
Voters must register by Oct. 11 to cast a ballot in the general election. More information is available at www.votesantarosa.com.