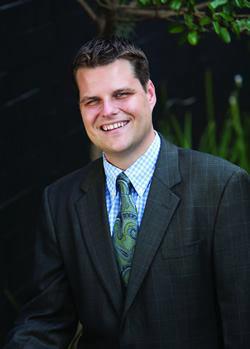 Despite chilly weather more than 100 people filled the back deck at East River Smokehouse to participate in a November 27 town hall meeting hosted by U.S. Congressman Matt Gaetz.
"Open Gaetz Day," a recurring event the legislator hosts in communities throughout Florida's 1st District, is aimed at making face-to-face meetings convenient for constituents to discuss issues, ask questions and provide input and concerns. Members of the media, including a reporter from the Washington Post, also attended.
Gaetz, the third youngest member of Congress, started off at 8 a.m. at Holley-Navarre Intermediate School before visiting the Hurlburt Child Development & Youth Programs.
A standing-room-only crowd packed Navarre Rotary Club's lunchtime round table, where Gaetz expressed appreciation for winning both state and federal races because of votes from the Navarre area.
Gaetz told Rotary members and guests about his committee work, including serving on the Armed Services Committee and an impending 8-percent raise for the military and $30 million in upgrades for the Gulf test range.
Additionally, Gaetz expressed frustration with partisan politics. "(Washington, D.C.) is set up to be divisive. They drive division," he said, pointing out there are even separate break rooms and cafeterias – unlike Tallahassee.
"We don't have democracy in the U.S. Senate," Gaetz said, adding that it is not a "functioning body" but rather a system based on patronage and seniority.
Attendees asked a range of questions, including the controversial proposed reopening of Navarre Pass, an action opposed by the military, which cites potential threats from boat traffic to nearby hazardous training areas.
Gaetz said he continues to support reopening Navarre Pass despite Senator Bill Nelson's opposition to it, noting he would like to explore "creative options" for the project, which could inject an estimated $1 billion into the local economy.
Following the Rotary round table, Gaetz stopped at Holley-Navarre Fire District, Navarre Beach Leaseholders and Residents Association and the Navarre Beach Sea Turtle Conservation Center before the town hall meeting, which was open to the public.
Gaetz during the town hall meeting fielded questions from mostly supportive constituents, including one lady who supported open carry and another who supported more gun control instead.
According to Gaetz, crime rates are lower in states which allow open carry. However, he noted he would not support open carry for long guns.
Mostly supportive attendees took turns at the microphone asking questions, although there were a couple of participants who challenged the freshman Congressman about his stance on fee simple title legislation caveats and the GOP tax bill.
Gaetz skillfully handled the questions and confrontations and didn't lose his calm, interested demeanor — even when one speaker's in-your-face behavior prompted law enforcement officers to protectively move closer to the legislator.
Toward the end of the evening an emotional mom asked Gaetz to continue his work championing medical marijuana on behalf of her daughter, who suffers from cancer.
Gaetz said he will continue to fight to get marijuana removed as a Schedule I drug, enabling more research and broader range of treatment coverage.
Nearly 12 hours after starting back-to-back appearances, Congressman Gaetz spent extra one-on-one time with attendees after the town hall.