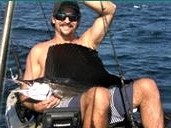 Construction of the largest phase of the Navarre Beach nearshore Gulf snorkeling reef system is expected to begin soon. The third phase will be a one mile wide and two mile long addition to be constructed one mile south of Navarre Beach Fishing Pier.
"This is the first public reef deployment off Navarre designed for kayak fishermen and paddle boarders ever," said Navarre resident Robert Boston, who successfully developed the plan to expand the reef by 200 percent.
After seeing an opportunity capitalize on 2010 Deepwater Horizon Oil Spill recovery funds, Boston stepped up to help get funding through early restoration monies.
"Santa Rosa turned in the least projects of the five counties (which sustained oil on beaches), and then turned in the least offshore restore reefs of the five counties even though we were the second worst effected county," Boston said.
So he teamed up with the Navarre Beach Marine Sanctuary, which had worked to bring Holley resident Brenda Stokes' dream for local snorkeling reefs to fruition, constructing two reefs in Santa Rosa Sound and one in the Gulf of Mexico at the county-owned Navarre Beach Marine Park.
Fast forward seven years from the oil spill, and Boston's idea to take the reef system to the next level is coming to life.
Taylor Engineering is set to make an August 1 presentation to get public comment on the expansion.
"It was purposefully designed to make it harder for commercial fishing boats to pillage the public resource; increase overall biomass production; and spread quality habitat over as large an area as possible within the funding allocated," Boston said.
The presentation will be made during the county's marine advisory committee meeting. The project is then expected to go out for bid if approved by county commissioners at the board's August 7 meeting.
According to Boston, the project has a September 2018 construction completion deadline.