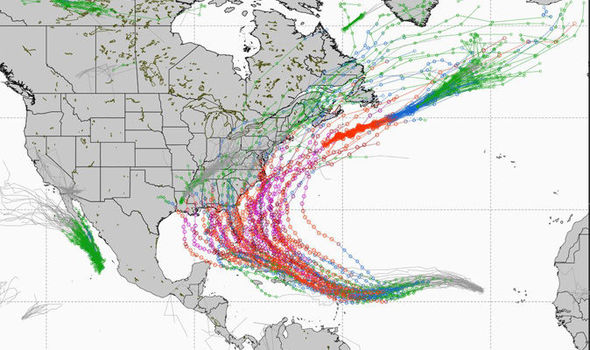 Graphic by Dr. Ryan Maue, WeatherBELL
Hurricane Irma is currently a category 2 storm with roughly 100 mph winds. But NHC predictions project Irma to increase to a Category 4 storm with winds exceeding 130 mph early next week.
"Long range (15 day ensemble) is foreboding for potential major hurricane landfall impacts. We need Irma to recurve away," said Meteorologist Dr. Ryan Maue of WeatherBELL.
But National Hurricane Center Forecaster Eric Blake in his 10 a.m. updated said the storm is expected to keep a "west-northwestward motion which should continue for the next day or so before a ridge builds over the central Atlantic Ocean. This ridge should force Irma to turn westward by the weekend, and west-southwestward early next week."
Per the National Hurricane Center's 10 a.m. CST advisory, satellite images indicate Hurricane Irma is rapidly intensifying and that "very deep convection has formed in the central dense overcast, which is now displaying a small and clearing eye."
"Irma has moved somewhat south of and slower than all of the model guidance since yesterday. Consequently, it stayed longer over the warmer ocean temperatures away from the drier air to the north, possibly allowing the rapid strengthening…In a few days, the hurricane will be moving over warmer waters with light shear shown by all of the model guidance. This should promote
further strengthening of Irma, and the NHC forecast shows an extremely dangerous category 4 hurricane next week," stated Blake.
Here's a link to Santa Rosa County Emergency Management's website with information on how you can prepare ahead of any potential storm threat:
http://www.santarosa.fl.gov/emergency/supplies.cfm