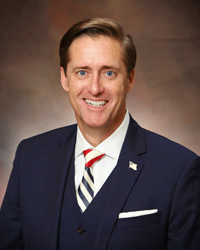 The Commissioner who suggested adding the word Memorial to Navarre Park's name reluctantly dropped the subject after several citizens and Board members objected, at Monday's Commission meeting.
"I don't believe it strikes a somber tone.  I believe it's who we are.  And I think we should be naming every park a memorial park," Williamson said, towards the end of the discussion.
He cited community reaction to last year's Blackhawk crash as an example of local military support.
Commissioner Rob Williamson said the park rename was his own idea.
"Generally renaming of parks are community driven – is this something that was driven from the community or how did you come about the renaming of the Park," Commissioner Jayer Williamson had asked.
"I think, much like what happens in each respective Commissioner's District, there are decisions that you try to make that are consistent with and aligned with the residents of the district that you serve," Commissioner Rob Williamson replied.
"I did provide a survey when I was first elected to ask what the goals would be to where I'd know better where to focus my efforts.  But this was not made part of that.  This really just came about as what I viewed as natural progression of what the use of the Park is now, and seeing that there are Memorial Parks as they are named all over the place.
"So I really just thought it was, like I said, just a natural progression.  I wish I could say that I put a lot more; anyway that's the best I can explain how it came about.  I explained it in an email.
"I don't know how much interest there is in this overall, considering we've had three total emails on the subject to date."
"Although Navarre Park currently has several memorials within and another planned in the near future, the park should not be defined as a Memorial Park," Navarre resident Mike Sandler remarked on behalf of the Navarre Chamber Foundation.
"On any given day, especially in nice weather, there are hundreds of kids running around in the play areas, individuals exercising along the fitness path and the basketball court, obviously.  Concerts, birthdays and celebratory events in the pavilions on the weekends mostly or in the Summer.  The Park is currently scheduled for some major recreational improvements also.
"Designating a memorial park gives the entire Park kind of a somber tone, and usually not something associated with the fun environment of the Park."
"I love the idea of the memorial for the Blackhawk down there…but I agree with Mike that naming it a Memorial Park gives it a peaceful, somber attitude that certainly with a splash pad you're not going to have on a hot Summer day," Commissioner Bob Cole remarked.
Commissioner Don Salter said he supports the Blackhawk memorial area but not changing the Park name.
"We have the Santa Rosa Veterans' Memorial.  It's specifically is for veterans and veterans' families," Salter noted.