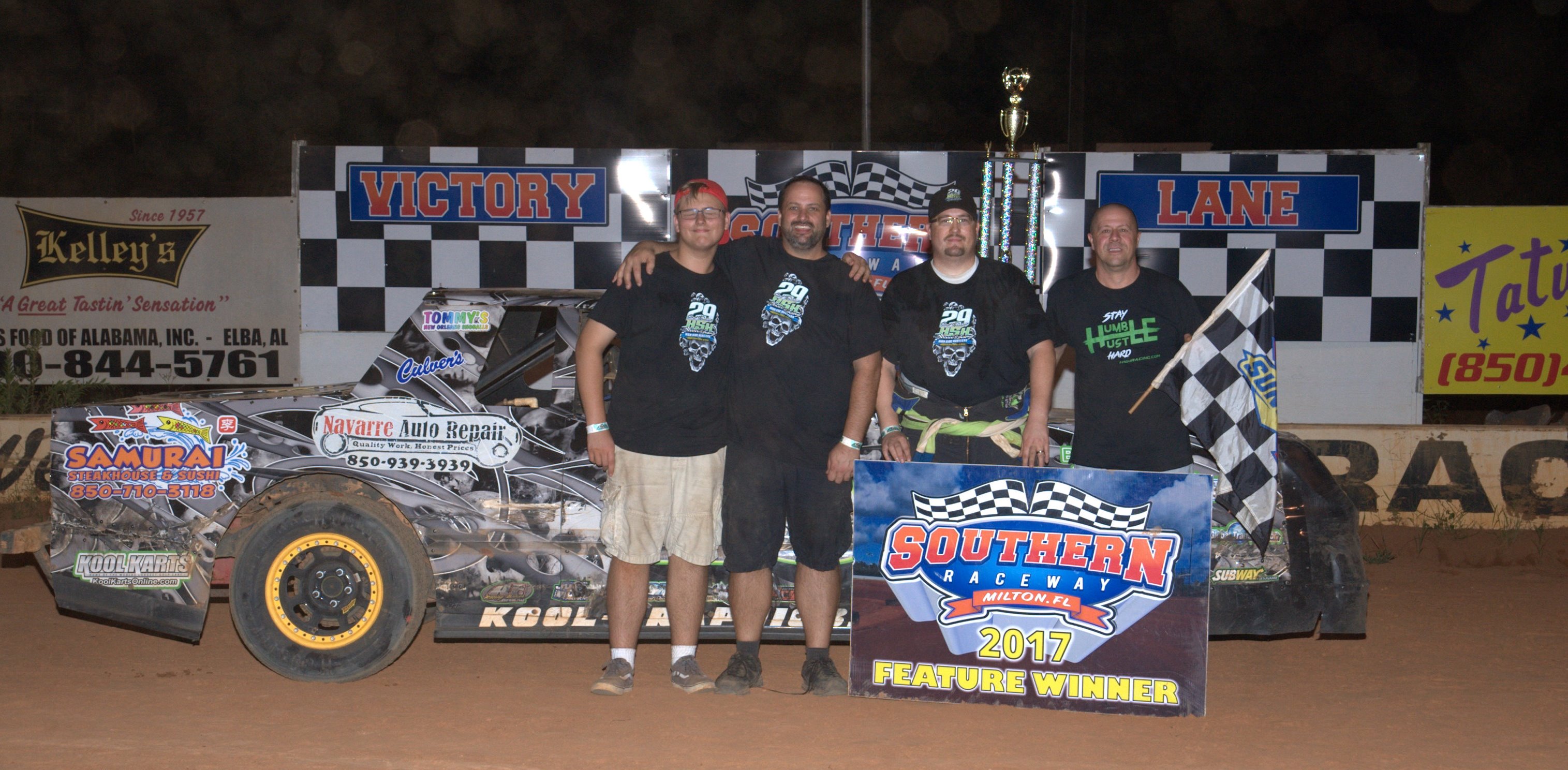 Pictured left to right are: Will Muller, Team Co-owners Will Goulet and Driver Carl Dodson and Crew Chief Dave Simpson
Navarre based HSH Racing and their driver and Co-owner Carl Dodson raced in their final race last Saturday night at Southern Raceway in Milton, FL. Dodson won in dominate fashion in the Pure Stock division in his return from a several week layoff due to a back injury sustained in a crash at the very same track. Dodson and HSH Racing have decided to end their racing season early to protect Dodson's health and well-being.
Dodson and crew unloaded the car Saturday night surrounded by friends, family and fans knowing it would be for the last time. Dodson spoke thoughtfully about his time behind the wheel and the great friendships that have grown from his many years in racing, race team Co-owner Will Goulet and Crew Chief Dave Simpson, plus the many sponsors, fans and friends that have supported him over the years.
Dodson is a past track champion at Southern and had 5 feature wins last season and finished 2nd in points and finished this season with 2 feature wins and was second in points. In addition to running 5 seasons at Southern, Dodson also spent one year running at 5 Flags Speedway in Pensacola where he was Rookie of the Year in the Bomber Division.
When asked how he felt, Dodson remarked, "This has been a long week, as I kept thinking of my last race. Thinking back on all the people that have helped, the feeling of winning, seeing my family, friends, and sponsors on my last night of racing. It's been hard to say it's my last, because I love to wheel the car around the track."
Dodson was still feeling the pain from his crash that knocked him out of his car for several weeks and once strapped into the car was forced to stay in the car until all the races were over. That is about 2 ½ hours in a tight seat wearing his fire suit in hot, humid conditions.
His effort was rewarded as the Pro Comp Machine powered HSH Racing #29 car was dominate with Dodson behind the wheel, winning their heat race going away and then taking the lead in the feature race and never looking back.
The winners circle celebration was extensive with many fans, supporters, sponsors and race team family members getting in on the picture…the last for Carl Dodson and HSH Racing…it was one to remember.
Thank you to all the great sponsors that supported HSH Racing and Carl Dodson: Navarre Auto Repair, Emerald Coast Coins ,Navarre Drywall, Build My SEO, Samurai Navarre, Pro Comp Machine, AK Moyer, Just Dirt Video Productions, Subway Navarre, Global Transmission, Kool Graphics, Kool Karts, Culver's Navarre, West Florida Coatings, Kahl Kreations, Tommy's New Orleans Snoballs, Bryans Towing, R and R Auto Salvage, Batteries Plus, Holley Properties, KBR, Bryant's Racing, AE Bodies and of course Navarre's Only Real News Source: South Santa Rosa News!