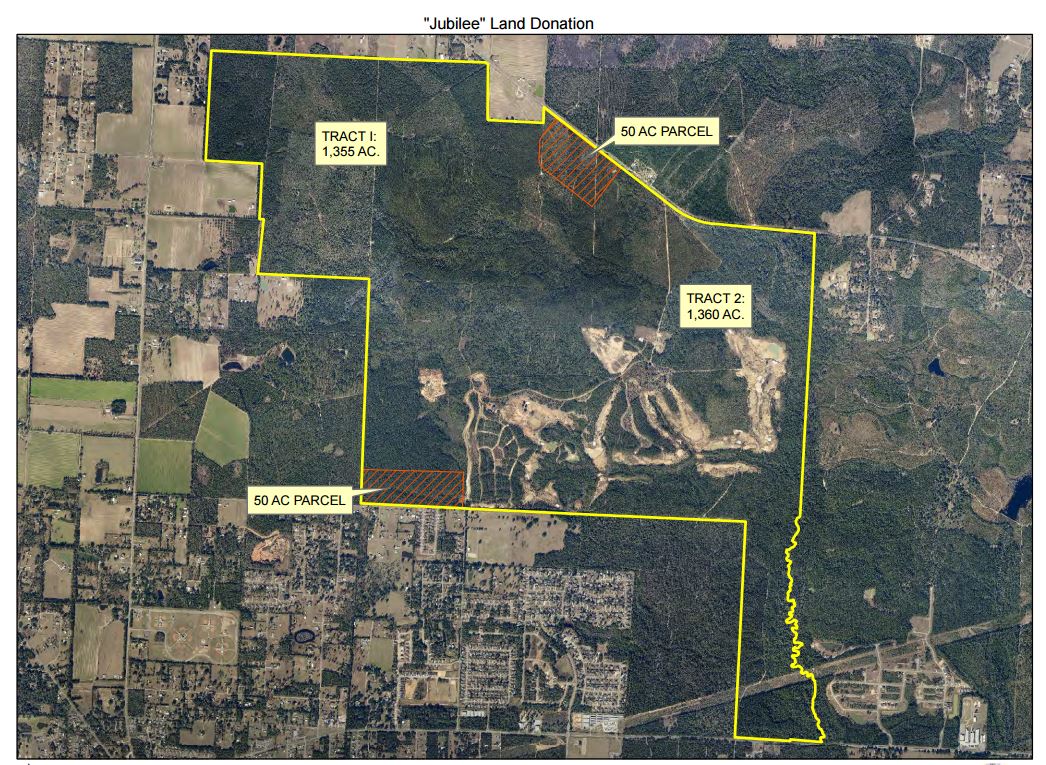 Next week Santa Rosa County Commissioners will decide whether or not to pursue a roughly 2,700-acre donation of land known as the "Jubilee" property in Pace.
The site, which is located north of Berryhill Road and south of Willard Norris Road, was billed in 2007 as the future home of one of the largest planned residential communities in the Panhandle.
However, the property owners hit financial snags, and the parcel fell into foreclosure.
Although it was announced in 2015 that new Altlanta-based owners planned to revive the development, the county received an "unsolicited" offer to receive the property by the end of 2016.
Commissioners on Thursday could decide if they want to move forward with the conveyance at their Dec. 8 meeting.
A Nov. 1 memo from county staff to the board stated the donation would cover all the parcel except a 50 acre parcel on Luther Fowler Road and a 50 acre parcel on Willard Norris Road.
"The only restrictions on the property would be approximately 184 acres in conservation easements that cover numerous wetlands," stated the memo which said there is a three-year agreement with the Florida Department of Environmental Protection related to wetland mitigation projects surrounding those wetlands. "These projects will have to be monitored and maintained for continued compliance."
The county would have to cover around $30,000 to $50,000 for title transfer/documentary fees, lose approximately $140,000 in outstanding  2015 and 2016 ad valorem tax revenue, and ensure monitoring and maintenance costs associated with the FDEP agreement.
"None of these costs would pose an impediment to the acceptance of the property donation," stated Tony Gomillion, county administrator.
Other items on next week's county commission agenda include:
Santa Rosa County Property Appraiser Greg Brown's remittance of $231,444 in excess funds and revenues for fiscal year 2015-2016;
Discussion of state legislative priorities
Proposed changes for fees to use county parks
Discussion of awarding of construction of the right turn lane for Navarre Beach Causeway at the Dec. 8 meeting
Discussion of a proposed 90-unit low-income housing development and 85-unit senior housing development   near Elk's Way just off U.S. 98 in Navarre
Repaving the following roads in District 4 (Navarre) at an estimated cost of $230,000

Broadmoor St. (from Citrus to Basswood)
Alfred Blvd. (from addresses 2007 to 1911)
Chapparel St.
Live Oak St.
Palo Alto St.
Brewster St. (from Hilton to Citrus)
Calle De Cantabria
Hilton Dr.
Second St.
2nd Court
More information will be posted early next week. Commissioners will meet at 9 a.m. Monday for discussion of agenda items at 6495 Caroline Street in Milton. They will meet at 9 a.m. Thursday to vote on agenda items at 1370 Tiger Park Lane in Gulf Breeze. Both meetings can be viewed online at www.santarosa.fl.gov.
Here is a link to the complete agenda and supporting documentation: http://www.santarosa.fl.gov/agendas/agendaView.cfm?ID=2227