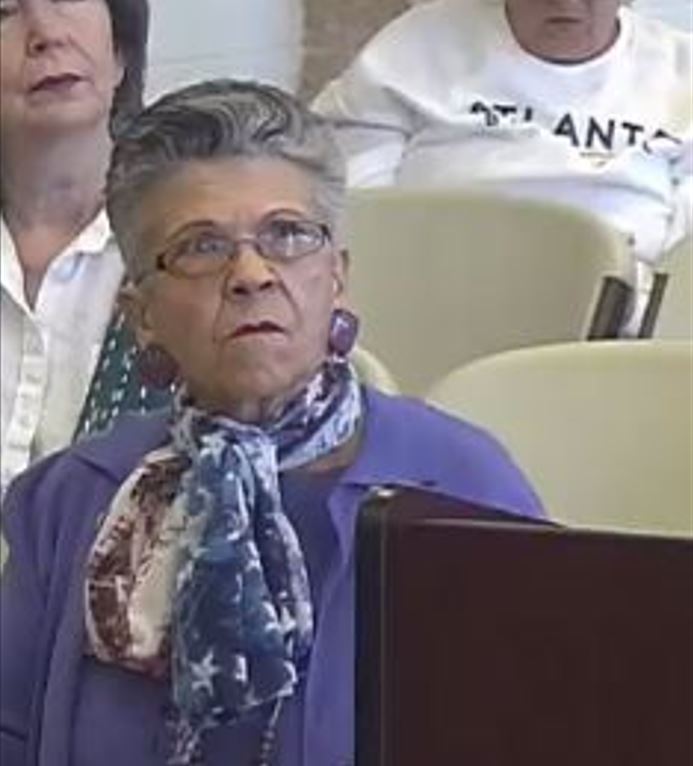 Reynolds pictured during Monday's county commission committee meeting.
Carmen Reynolds is an environmental activist who works in lock step with local Democrats, Preserve Navarre (pro-incorporation) and others, triggering them to pick up pitchforks and protest. The problem is that sometimes her assertions are untrue or inaccurate.
Reynolds is known for spreading false information via social media, such as claiming there was going to be a double-digit rate hike proposed by Holley-Navarre Water System. Subsequently, customers showed up at HNWS's September 2022 meeting in protest, only to be informed by Director Mark Miller it was untrue. "Regarding the (alleged) rate increase that has been floating around, that has absolutely no basis. I don't know who came up with that and who is sharing false information like that, but that number (47%) has never even been discussed by this board," stated Miller. The truth: after a rate analysis, a 6% increase was approved months later in January 2023.
Additionally, Reynolds and Preserve Navarre teamed up, making claims of "corruption" at that utility. However, a $40,000 forensic audit resulted only in recommended improvements to policies and procedures. These disgruntled activists should stop making unfounded accusations. Corruption is a VERY strong word that should only be used if someone has first-hand knowledge or evidence of actual corruption.
Fast forward to June 5, 2023. Reynolds and others, including about a half dozen Democrats, showed up at the county commission meeting, speaking against District 3 Commissioner James Calkins' strong opposition to District 2 Commissioner Kerry Smith's surprise move, replacing a local Republican with a Democrat in an official advisory role.
Reynolds accused Calkins of leaving non-Republican county staffers feeling "disenfranchised." She also publicly accused him of an ethics violation. But the Florida Ethics Commission dismissed 20 related complaints, stemming mostly from local Democrats.
During that same meeting Reynolds also lashed out at Calkins for opposing recall legislation, an effort local Republican Activist Larry Hetu says would benefit Democrats.
Now Carmen's mad because she failed in her effort to use Preserve Navarre as the organization to receive certain local grant funding for a water quality testing project by a group of loosely organized citizens calling themselves the Watershed Protection Committee.
Reynolds' grant application to the Pensacola and Perdido Bays Estuary Program was primarily rejected for using Preserve Navarre to apply. Why? Because Preserve Navarre is a 501(c)(4), which are groups considered social welfare organizations that are allowed to become far more politically involved and partisan than 501(c)(3) organizations.
Read that again. Preserve Navarre is a 501(c)(4) and considered a SOCIAL WELFARE organization.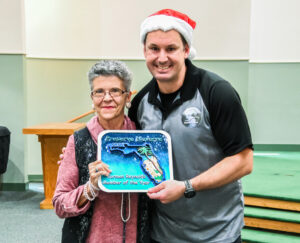 Carmen receiving Preserve Navarre's 2022 Member of the Year award from Preserve Navarre Director Wes Siler
Watch closely what they advocate for and against. Preserve Navarre members, including Reynolds, pushed for Recall Florida, which failed. They support higher taxation and more government regulation through the proposed incorporation of Navarre.
I guess we can also expect them to support Florida House District 3 Rep. Joel Rudman's latest idea, which is to expand Medicaid in Florida? That's going to fail, too. Rudman would be wise to stop carrying the water for fake Republicans.
Carmen, if you want to know who to blame for the water quality testing grant application being rejected, look in the mirror. You literally did this to yourself, so stop blaming Conservatives who don't support your liberal agenda.