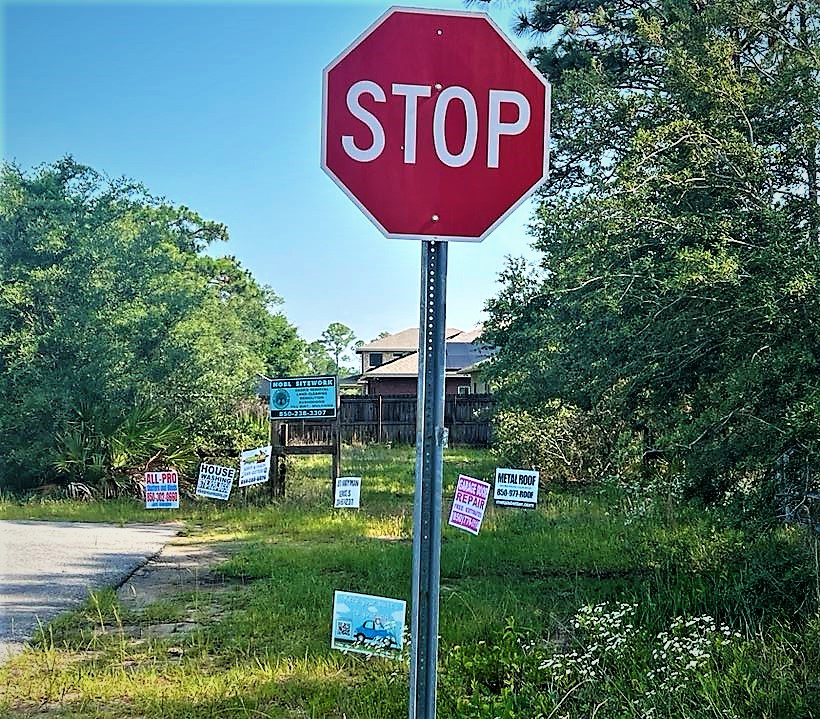 Protect Navarre, a newly formed group aimed to improve District 4 without incorporation, is planning its first community cleanup. A group representative spoke during Thursday's county commission meeting, asking if volunteers may legally remove signs illegally placed in public right of ways.
"They're everywhere down there in the right of ways. They're nailed to telephone poles," said Protect Navarre Government Liaison Harlan Hall, who said the sign pollution is making District 4 look "trashy."
Hall offered for Protect Navarre volunteers to assist District 4 Commissioner Ray Eddington with his ongoing cleanup efforts.
Recently Eddington worked with Santa Rosa County Code Enforcement and Santa Rosa County Sheriff's Office to get trash removed around a trailer park on Bob Tolbert Road after neighbors complained that a buildup of household refuse was attracting bears.
During today's meeting, Hall presented a photo taken yesterday on Pawnee Drive, showing multiple signs which appeared to be illegally placed around a stop sign at a busy intersection.
"We cleaned up that pile about a month ago, and they're already back," Eddington said.
County Attorney Tom Dannheisser said that the county doesn't have the authority to empower private citizens to remove illegal signs in the right of way. However, Santa Rosa County Sheriff Bob Johnson said his agency views it as code enforcement violations which those volunteers would be helping to resolve.
"Businesses who use unethical and illegal signage will quickly learn that Navarre doesn't tolerate snipe signs," Hall said. "We'll have our volunteers call them to pick up their signs, but if we find a company repeatedly violating county codes we will work with authorities to ensure they are fined."
Hall says the group, which started April 16, plans to begin regular cleanups in order to make District 4 look better. The first cleanup is planned for 9 a.m., Saturday, June 3. Meet up will be at the Holley Ball Park, located at 3146 Bob Tolbert Road. Teams will work specific target areas, including East Bay Boulevard, Edgewood Drive, Andorra Street and Pawnee Drive/High School Road. Volunteers would be appreciated for any length of time and should bring their own gloves, water and sunscreen as desired.
For more information email ProtectNavarre@gmail.com or following Protect Navarre on Facebook: LINK TO PROTECT NAVARRE'S FACEBOOK PAGE