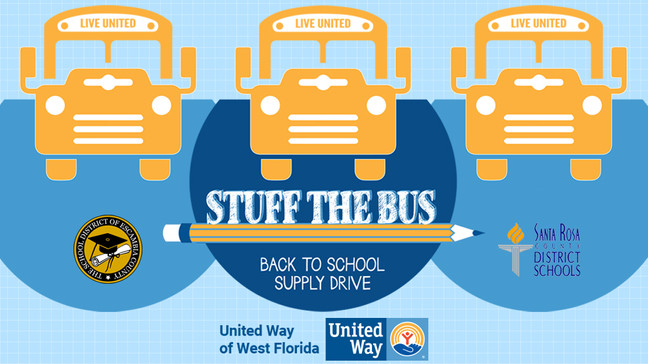 Santa Rosa County District Schools encourages the public to "stuff the bus" to ensure that students in Santa Rosa County are equipped with the tools they need to succeed in the upcoming school year.
Thanks to the local donations, Santa Rosa County District Schools in 2019 distributed over 1,000 backpacks stuffed with school supplies to area students.
A supply list is posted at www.uwwf.org/stb or in-person donations can be made July 22 at the following locations:
6 a.m. – 6 p.m. at Dillon Administrative Office, located 6032 Highway 90 in Milton
8 a.m. – 6 p.m. at Gulf Breeze High School, located at 675 Gulf Breeze Parkway in Gulf Breeze
8 a.m. – 6 p.m. at Holley Navarre Intermediate School, located at 1936 Navarre School Road in Navarre
Donations can also be made online: CLICK HERE FOR LINK
For more information, contact Brandi Bates, (850) 983-5163.