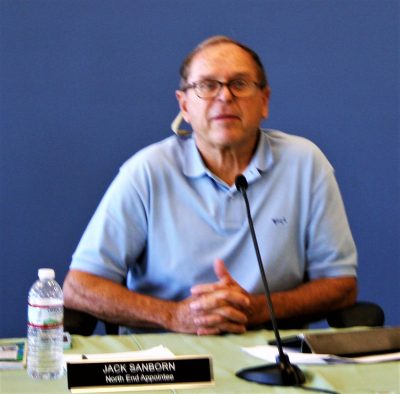 Longtime Santa Rosa County Tourist Development Council appointee Jack Sanborn, an owner of Adventures Unlimited in Milton, is being accused of making a sexist remark during last week's TDC workshop.
Sanborn on an audio recording of the May 17 special budget workshop can be heard making the statement to a female reporter.
The incident occurred during a discussion about funding a Navarre Beach Area Chamber of Commerce event called Small Bites Under the Moonlight, which are scheduled to take place at Navarre Beach Fishing Pier.
"This must be a new event by the chamber. Does anyone here know more about that one," asked Kyle Holley, TDC chairman.
Local newspaper reporter Jamie Gentry spoke up, offering details about the event but stating a disclaimer. "I'm a reporter so my job is not have zero opinion, so note that I have zero opinion," she said.
"Oh, all reporters believe that, just so you know…you can put that one on the record, too," stated Commissioner Sam Parker.
Holley expressed appreciation for Gentry's gesture, stating he appreciated the relationship.
"And you're a female and no opinion," Sanborn stated.
At that point Holley can be heard stopping Sanborn. "Jack, uh nah,"
"I really appreciate the sexism. It's great," Gentry replied.
Holley went on to say "Stop that, stop that, stop that."
South Santa Rosa News reached out to Sanborn for a comment. "I spoke with Jamie and she acknowledged what I said as light-hearted humor and laughed. Just meaning all women generally have opinions," he said.
However, TDC Chairman Kyle Holley stated he has strong feelings about the remark.
"Those are public meetings that are noticed, so we have to have deportment at the highest level. You have to have a certain decorum. You have to be dignified," Holley said, pointing out that high-level county staff, including Santa Rosa County Budget Director Jayne Bell, were in attendance. "We need to be professional. I did not appreciate that."
Commissioner Sam Parker said he has no comment about the incident.
Listen to the audio of the second half of the meeting during which the incident occurred at the roughly 42-minute mark:
May 17 Santa Rosa County Tourist Development Council Special Budget Workshop
Gentry responded to South Santa Rosa News' request for a comment. "I feel that the comment was made in humor," she stated. When asked if she felt sexist sarcasm is appropriate during a county-sanctioned meeting she said it was "perfectly fine," considering the relationship she's developed with Sanborn.