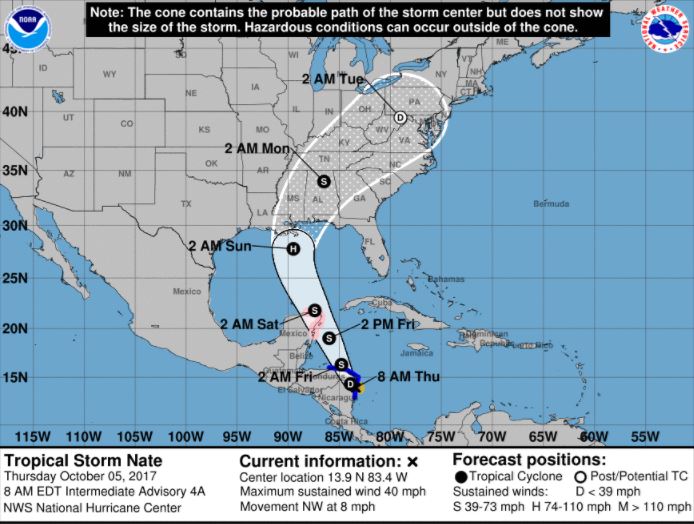 Tropical Depression 16 formed into Tropical Storm Nate later than expected, and the storm's projected path overnight required a "fairly substantial westward shift," per the National Hurricane Center's 8 a.m. EDT advisory.
NHC yesterday anticipated the storm would reach sustained winds of 39 miles per hour to become Tropical Storm Nate. However, the storm's sustained winds didn't reach tropical storm force strength until after the 5 a.m. EDT advisory.
"The intensity forecast remains quite uncertain due to expected land interaction today, and possibly again in about 48 hours when the system passes near the Yucatan peninsula. The depression could still become a tropical storm before the center moves over northeastern Nicaragua and eastern Honduras later today," stated Meteorologist Dan Brown.
In addition to intensity uncertainties, Brown's discussion explained the forces which are expected to continue steering the storm more toward the west.
"The cyclone is forecast to move northwestward to north-northwestward during the next day or two around the western side of a ridge the extends from near the southeastern Bahamas southwestward into the central Caribbean Sea. By the weekend, a large mid- to upper-level ridge is forecast to build off the coast of the southeastern United States, and this should steer the cyclone north-northwestward at a faster forward speed," he said.
According to Brown, after 72 hours, the system is expected to recurve around the northwestward side of the ridge.
"This has required a fairly substantial westward shift in the NHC forecast track at 72 (hours) and beyond," he said.
The update shows the storm is still expected to reach hurricane strength before making landfall somewhere along the Gulf Coast on Sunday.
The next NHC advisory on the storm will be issued at 11 a.m. EDT/10 a.m. CDT.