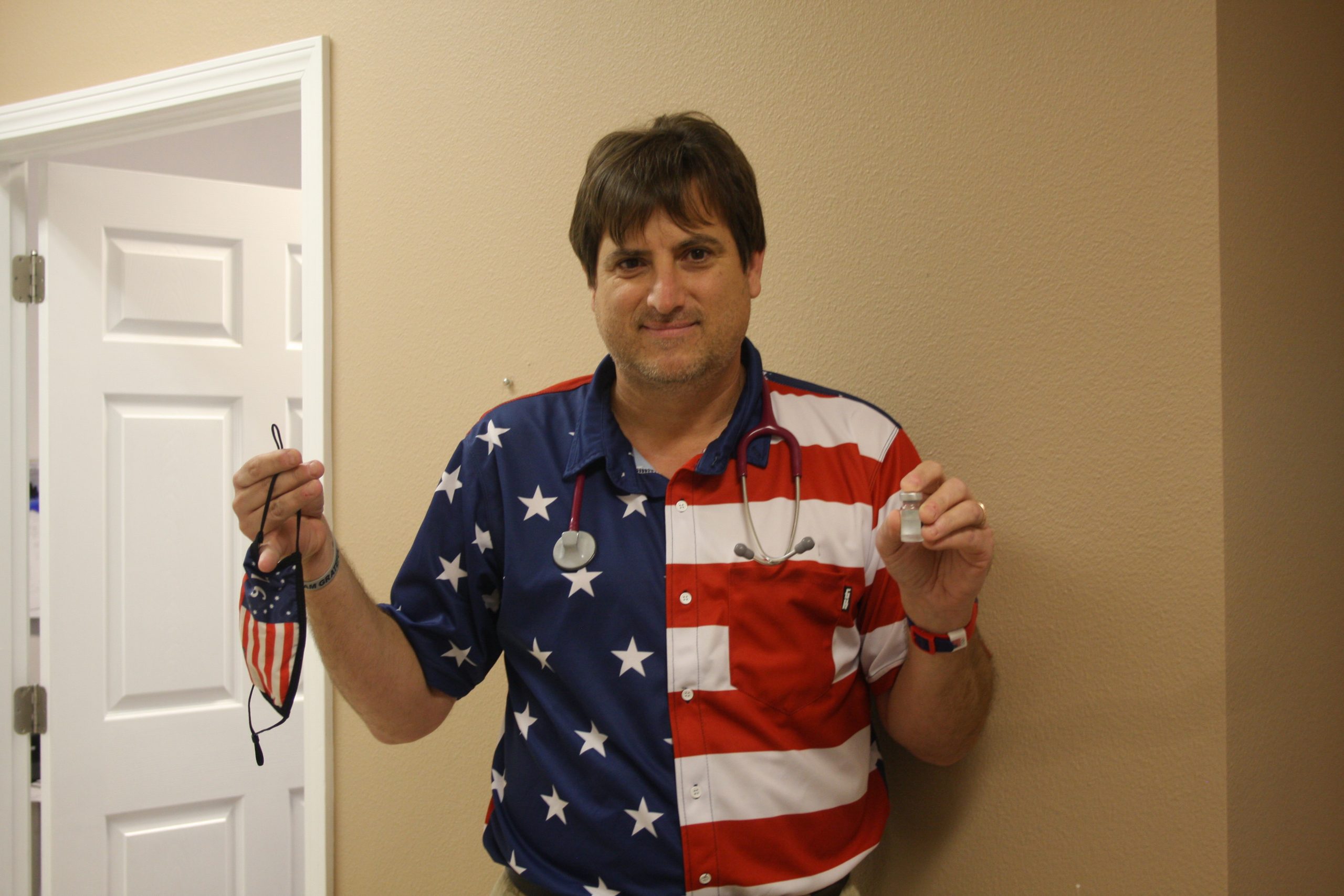 Dr. Joel Rudman of Holley-Navarre Medical Center, is pushing for locals to get vaccinated and stop wearing masks, and he supports the school district ending masks requirements for students. Photo by Romi White
The Santa Rosa County School Board on April 20 is hosting a workshop to review COVID-19 mitigation strategies, including the existing mask mandate.
Florida Education Commissioner Richard Corcoran on April 14 sent a letter to school districts with mandatory mask requirements, asking them to make masks voluntary for fall.
"Face coverings are a personal decision and certainly families and individuals should maintain their ability to make a decision that is unique to their circumstances," Corcoran said.
Doing away with mask mandates is also a goal for Navarre family physician Dr. Joel Rudman, who on Easter Sunday started a grassroots campaign called "90 Days to Freedom," advocating for citizens to get vaccinated by July 4 so that Independence Day could be a celebration of a return to personal freedoms and normalcy.
""The vaccine is our ticket to normal," Rudman said. "I think some people are content to wear mask, thinking it's the best protection ever, and others think 'when is this going to end I can't breathe.'"
Rudman said the availability of COVID-19 vaccinations make it possible to do away with masks by this summer. In fact, after July 4 masks will be optional at his private practice, Holley-Navarre Medical Center.
"Mask wearing was fine when we didn't know much about this virus, didn't know the scope of the problem, didn't even know if it would fizzle out after a month…so at a time of unknowns, mask wearing was the only option given to general public," he said, pointing out that doing so accomplished "very little" and was just the best idea at the time.
Rudman said cases increased around Christmas and Spring Break when people wearing masks gathered and that around 120 of 150 of his patients who caught the virus consistently wore masks.
"If someone feels more safe (wearing a mask) that's perfectly fine," he said. However, he believes vaccination is a "much better option" for protection.
Rudman also thinks it's a good alternative for students who can get vaccinated.
"When you're vaccinated the school will not send you home as part of a quarantine, per CDC (guidelines)," he said, explaining he had some patients who were quarantined repeatedly despite not being sick for one day. "Mask wearing has not kept any child immune from quarantine…their policy kind of makes my point that it doesn't accomplish (protection)."
The April 20 school board workshop will take place from 5-6 p.m. at Woodlawn Beach Middle School.